By Roby Tan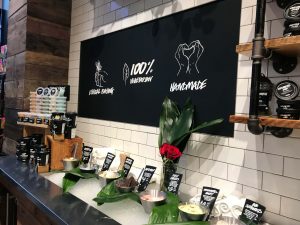 Recycled packaging, handmade soaps and 100% vegan options are every Earth lover's dream. The cosmetics company "Lush" works towards saving the environment and to using only the safest ingredients for the skin.
Lush is famous for its fresh handmade products that cater to all skin types. Pictures of employees are on the containers to emphasize that products are handmade and to establish a connection between the worker and customer. The famous bath bombs only contain safe synthetics used for preservation, compared to cheaper products that contain chemicals with fake fragrances that are harsh on the skin. The glitter is plastic-free and will dissolve when in contact with water.
"When looking for a good bath bomb, all the products you find are gentle on any skin type," Lush employee Kevin Olivarez said. "It also depends on what scent you prefer more. For those with sensitive skin who want to be careful, I recommend using the sea vegetable soap because it's mild, and it doesn't contain palm oil which is both bad for the skin and the environment."
Aromatherapy plays a role in Lush's natural ingredients. Choosing the right scents is also beneficial  for clearing the mind and soothing the soul. The plant extracts and essential oils found in Lush's products promote better sleep and ease anxiety. Even something as simple as a warm bath before bed can improve both physical and mental well-being.
"I just love it when I step into a warm bath and watch the fizz of a good bath bomb," junior Jordan Bennett said. "It relieves my stress, and the scent takes the day's problems away."
Staying true to their word on naked products, Lush's ultimate goal is to sell products with zero packaging, but if needed, shampoo bottles and body conditioner pots are made from BPA-free 100% post-consumer plastic which means the bottles have been and will be recycled again. These bottles and pots can be returned to local Lush stores for recycling. Recycled coffee cups are used for the "pick 'n' mix" cleansing balms packaging. If products are shipped, the products come in 100% biodegradable cellophane or recycled cardboard boxes.
"Being a vegetarian, I am a fan of Lush's organic products," junior Isabella Bonilla said. "I love how their goal of making zero-waste packaging possible is put into action which is why I carry my tote bag around with me, and I even have a compost bin at home."
These organic skincare and haircare products are locally located at the Fashion Show Mall, the Forum Shops at Caesars, the Miracle Mile Shops, the shoppes at Mandalay Place and Downtown Summerlin mall.
When purchasing cosmetics that use plastic and unsafe chemicals, stop and think about the consequences. Lush is one of the many companies opting for change, so make the switch to purchase organic products at local, environment-friendly shops. Take the next step in saving the Earth while doing what's best for your skin.