By Lorin Enns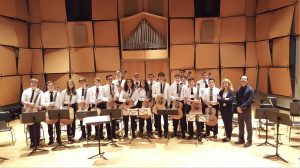 Students in the guitar program travelled to southern California on Friday, March 29 to participate in clinics, attend guitar performances with world-renowned musicians, and bond at Six Flags Magic Mountain. Guitar students take the trip annually, 2019 marking the eleventh year in a row the program has attended. Students take the opportunity to meet with clinicians, receive professional critique, bond as an ensemble and improve as a group.
"My biggest takeaway of the trip is the energy and the inspiration that the kids get that lasts until the end of the year from the performances that they've seen," Dr. Nishimoto, guitar director, said.
Students in the intermediate ensemble kicked off the schedule at the Cerritos College Forum Festival on Friday afternoon, followed by the Green Valley High School ensemble, who also attended the event. Next came the Coronado Advanced performance, finished off by an awards ceremony. Following the festivities at Cerritos, the buses arrived at Loyola Marymount University, where students and chaperones enjoyed a Kupinski Guitar Duo concert that evening.
"For the size that we were, I think our group did really well," senior Sydney Ly said. "We played pieces that we've been working on for the entire year, and we chose the two that we felt most comfortable and the strongest in."
Saturday's schedule consisted of workshops at LMU, along with a performance in the Young Artists Showcase concert. Guitarists also had the chance to take part in coaching from Ewa Jablczynska, one-half of the Kupinski Duo. The group enjoyed the concerts of musicians Jiji and Gabriel Bianco for the remainder of the day.
"My favorite part [of the trip] was when we got complimented by Ewa Jablczynska on our performance," junior Matthew Molloy said. "Not every performance is perfect, and even if you mess up a couple of times, the performance can still be good."
After two days of clinics and concerts, trip-goers enjoyed a day of riding rollercoasters at Six Flags Magic Mountain, bringing their trip to a thrilling end. Seniors graduating this May took the opportunity to look back at their years in the guitar program with Dr. Nishimoto.
"This trip is an amazing opportunity to travel and see world-renowned guitarists play while also being able to perform for them," senior Blake Baumunk said. "As a senior who has been involved in guitar for four years now, it's been a great lesson in teamwork, checking that we all have our parts down, and helping each other out to make sure we're all prepared together."