By Amanda-Joy Lee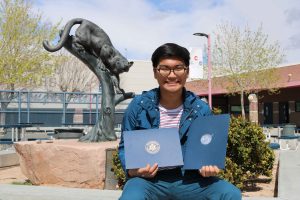 Passing him in the halls, it's hard not to notice Thomas Kyong's bright smile and upbeat spirit. Known for his spectacular accomplishments, hard-work, and warm-hearted personality, he is one of Coronado's most shining students.
"I would describe Thomas as determined, caring, and ingenious," senior Noel Tran said. "I would encourage him to not be afraid of what is out there and to push the limits of what is possible."
Kyong believes that education is the most important tool in life, which is why his GPA has never strayed from a 4.0. He is currently in the AP Academy and plans to become one of this year's valedictorians. Alongside his studies, he is the President of Future Medical Professionals, American Red Cross, and Medical Aid Association and Vice President of Mu Alpha Theta.
"I honestly couldn't have asked for a better education," Kyong said. "I enjoy going to class and enjoy participating in it."
In the past year, Kyong and his brother won the "International Research Scholar Award," from NASA for finding ways to turn algae into nutrients that can be turned into forms of live stock feed, vitamins, and astronaut food; he was awarded $4000 to continue his research.
"I was very shocked to win the NASA award," Kyong said. "I didn't intend to win and rather enjoyed my study on algal blooms. I was pretty excited to meet some of the most brilliant people in the entire world."
Kyong has also published studies with MIT about the analysis of semiconductors for solar cells and researched different techniques such as electrospray to determine how cost efficient and environmentally probably they were. He also had the chance to publish another study with UCI where they measured the size of peduncles in patients who underwent surgery which predicted postoperative motor functions in split-brains.
"These are opportunities I looked into myself," Kyong said. " Everything was through my own curiosity and love for research."
His most recent accomplishment was the invitation from Jacky Rosen to meet Congress to discuss his recent app creation: Chroma Calendar based off his research on different types of color blindness such as protanopia (red-green), protanomaly, tritanopia, and partial monochromacy.
"Congress was pretty much a shocker," Kyong said. "The app was still a work-in-progress and being a Congressional Winner was an extremely uplifting experience. It taught me to put all of my effort into my work rather than sloppily put it together."
Alongside his scientific achievements, he is also the co-founder and president of One Change: Treat & Change (OCTA), a non-profit organization that creates bills with political support to fight against homelessness in California and Nevada.
"OCTA has definitely led me to believe that one person can make a difference," Kyong said. "I've worked with many cities, politicians, and teams that have enabled us to connect with many communities and create a greater change in society."
Besides all of his scientific and political work, he often enjoys cooking and baking, specifically banana bread and spaghetti. In his free-time he roller skates and ice skates to try and fulfill the goals of the five philosophies, which he believes is the key to becoming more self-actualized.
"I strive to become a self-actualized person and to respect both sides of a situation," Kyong said. "Wherever I am, I want to provide a listening ear and kind words of inspiration."
Kyong's top options for college are Harvard University, Columbia University, University of Pennsylvania, John Hopkins University and Cornell University. In the future, he wants to become a neurological surgeon and to possibly go into politics. He believes that the current political scene is toxic and would like to face problems head-on so that people can become more educated, and society can become more progressive.
"I hope to touch the hearts of other people and to become an inspiration to others," Kyong said. "I don't want followers. I want to produce leaders that are inspired by me and for them to do something with it."