By Samantha Catalano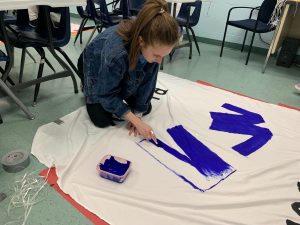 Nintendo Wii Week is April 5-12; it is a week full of spirit days and activities focusing on showing and promoting school spirit. The festivities start on Friday when students are invited to wear Coronado gear and school colors for "Home Menu Day." Monday is "Safety Strap Day" so wear bright colors or construction worker attire, put on 80's or 90's gear for "Rock Bands Day" on Tuesday, express your inner baseball dad or tennis mom on Wednesday with "Wii Sports Day," "Twin Day" is on Thursday so represent Mario and Luigi in matching attire on Thursday, and "Power Down Day" is on Friday so wear pajamas to show your sleepy spirit.
"I can't wait for PJ day,"  sophomore Maya Caress, student council member, said. "It's my favorite day of the spring spirit week."
Students who dress up for the spirit days receive free treats at lunch such as hot dogs, orange slices, rock candy and neon wristbands.
"I think it's super cute and generous that StuCo gives us treats if we dress up," Olivia Farinas, junior, said.
The Nintendo-themed assembly starts after sixth period on Friday, where the prom court will be announced, the boy and girl bands will perform and there will be games to get attendees hyped up for the week ahead. Along with Korean Club, the dance and cheer teams will also perform.
"My favorite part about assemblies is watching all the students having fun and enjoying themselves with their friends," Amiyah Ellis, Junior Class Treasurer, said.