By Kassidy Weber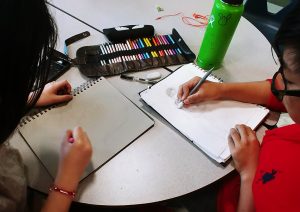 Every school has the stereotypical class clown, future Harvard brainiac, letterman jacket wearing athlete, and quietly sitting in the corner of this chaotic class, you may find the innovative art kid. You know who we're talking about, the students who doodles on every assignment they receive, the ones who draw non-stop. Teachers might become annoyed by what seemes to be a distraction for these students, but there are many benefits that art holds in the classroom.
"Drawing is a way to escape stress," sophomore Daren Johnson said, "School is a very stressful place, and drawing helps you cope with that stress."
One of the most recognized benefits is the opportunity art gives people for freedom of expression, while also promoting diversity among one another. The teen years can be a dramatic, stressful time, so when students are introduced to art, they can express themselves in creative ways as a form of therapy. Every artist has their own unique styles, cultures, and ideas which contribute to diversity in the art industry allowing for greater appreciation of differences. This broadens knowledge about different people allowing artists and spectators to gain more respect and understanding for people of different backgrounds.
"Cultures have many different ways to express themselves in their art which can vary from each person who interprets it," sophomore Adrian Vanzuela said.
Many students struggle with patience, trying to rush through an assignment while not taking time to make sure it's ready to be turned in. Artists of many kinds take their time in order to ensure their piece is as perfect as possible helping them gain this hard-to-achieve skill. Art will help train your brain to take its time which can be applied when learning any other skill.
"Patience for art helps you gain more of an understanding about all of the details and passion you're putting into your work," senior Ingrid Chen said.
When artists make a mistake that could potentially destroy the piece all together, they learn problem solving skills. These kinds of situations enhance your ability to solve isolated issues which can come in handy as a student. Along with problem solving, art can train you to take risks with the craziest of ideas. It helps you finish pieces efficiently while not letting any error stop you in your tracks, a lesson that can assist in all aspects of life.
"Developing problem solving helps you work around different situations and helps you gain an instinct that will help you avoid those problems before they come into play," senior Jesus Jimenez said.
The biggest benefit for all students is improving concentration and focusing skills. Both of those skills are key for accomplishing any sort or long-term goal throughout life. Artists put endless hours of focus and concentration into perfecting tiny details, and in the classroom, concentration and detail orientation is one of the most important skills to help lead you down a path of success.
"Art helps you focus on the details here and there that'll make your work unique and stand out," sophomore Nick Ferrer said.
Although students are required to take courses like math, English, science, history, and foreign language, adding art to your schedule might help you learn artistry that the common core doesn't teach you. Art is a way for students to advance in dexterity and to grow as a person in a creative and engaging way. Art can bring both adults and kids alike the joy of creating something on their own while also learning new and valuable skills.