By Valerie Perez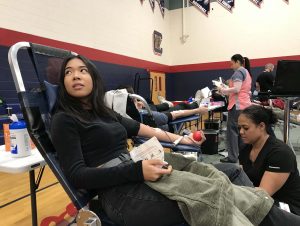 The Future Medical Professionals Club (FMP) is hosting a blood drive in the gymnasium on Friday, April 26. The drive is open to student volunteers who are 17 or older.
Blood drives such as Vitalant are held every three months to accept donations to give to good causes. To participate, students should sign up and go to the College and Career Center to receive a permission slip which requires a parent signature.
"The blood drive is a welcoming environment for students to help out the community locally and nationally," senior Khristian Rosales said. "At the previous blood drives, I enjoyed helping out the drive and was happy to be participating."
When entering the gymnasium, there will be a sign-in section with workers from the United Blood Drive and members from FMP helping students sign in. There will be a waiting area for students until there is availability or their appointment time is called. In these stations, there are around six to eight chairs with a nurse helping each student draw blood, which takes about 15 minutes. After blood is drawn, there is a sitting area filled with snacks available to students.
"It's a fun and great event for a good cause," senior Saad Chowdry, Vice President of FMP, said. "Every year the donation process is growing, and it's a great place to be volunteering."
The United Blood Drive services comes to local high schools to receive blood donations. The last event donated blood to victims of the Route 91 shooting. The United Blood Drive also goes to neighboring states for help.
"This drive has been something that has grown my relationship with so many people," senior Fatima Sanchez said. "It has allowed me to get involved all over campus with students and staff. I'm so glad I got to work with Vitalant which I know is making a difference in so many people's lives. I have been working with them for two years now, and I know after the Route 91 tragedy, so much of our students' blood went out to neighbors here in Vegas."