By Kiley Brown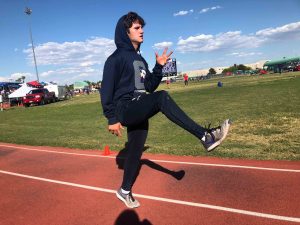 Athletics have always come naturally to sophomore Trey Goughnour. Football and track are Goughnour's two main sports. He participated in his first sport, baseball, at the age of six and he has not slowed down since.
"Football was always my favorite sport; I wanted to play it so bad," Goughnour said. "When I was about eight, my parents put me in flag football, but I wasn't satisfied. I wanted to play tackle football. I played basketball throughout middle school to keep my mind off of it, but in seventh grade, when I was 12, I was finally allowed to play tackle. I got rookie of the year and played until the start of high school."
Upon entering high school,  he took a break from track but decided to get back into it and continue on with football because sports keep him focused and if he didn't play them, he would be lost.
Goughnour started running track to become a better and faster football player. He had the opportunity to be a part of the junior Olympics in eighth grade for track, running the 4×100-meter relay race. This year he plays slot receiver or wing back for the football team and he runs sprints, the 200 and 400-meter dash for the track team.
At the start of sophomore year as track tryouts approached, he felt as though he had prepared enough for the team, leaving him to not stress as much since he had practiced his whole life, competing against kids all over the state and country.
"I felt like it was going to be easy, so I didn't practice too much," Goughnour said. "I played on the freshman team and sophomore year I got on varsity."
"Being on track helps me stay fast and get as fast as possible," Goughnour said. "Something about running is just my peace; it definitely takes my mind off stress. I also enjoy meeting new people, everyone on the team is super cool and nice."
In his future, he hopes to earn a division one football scholarship by playing D1 football in college, as well as earning a good education. His dream college is Ohio State.
"Trey is a good and hard working kid," track coach Mr. Cooper said. "It's his first year on the track team, and he is one of our better JV runners.  We are looking forward to him staying with us over the next few years to develop into a varsity contributor.