By Ellis Sondrup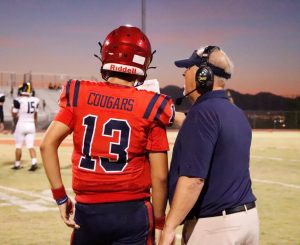 Varsity football fell in their first home game of the season to the Foothill Knights, from Santa Ana, California, coming short 7-27 on Friday, Aug. 23. As the Cougars were not playing a conference team, this will not affect their playoff run this season but provided insight for what varsity will look like this upcoming season. 
The Knights scored quickly in the first quarter and completed the extra point. The Cougars answered shortly after with a 56-yard touchdown pass to senior Andrew Montez and completed the extra point, tying the game at seven. 
The Cougars dominated defensively throughout the first half of the game, then fell in the second, allowing a touchdown with a two-point conversion late in the third quarter. The offense struggled, only scoring in the first quarter, then going scoreless for the remainder of the game. 
"I'd say with offense, we've definitely got a new thing going, it came brand new with the new coach," RJ Sutton, junior linebacker said. "As soon as they get it going I think it'll be pretty even."
Coach Fred Biletnikoff Jr. debuted as Coronado Head Coach, already showing changes made to offensive strategies. The Cougars showed a mix of passes and runs throughout the game, allowing quarterback Keegan Tharp to connect long passes as well as pushing running backs to pick up much needed yards. This proved effective through the first quarter, but the Knights strong defense prevented the Cougars from scoring the rest of the game. 
"Every week's different and this week we ended up on the short end of the stick," Coach Biletnikoff said. "We've got a bunch of resilient kids out here and they're going to put in the work to put us in position to win next week."
The Cougars continued to push, but were outplayed in the remainder of the third and fourth quarters. The Knights were able to score two more touchdowns securing the win 27-7. 
"One by one," Coach Biletnikoff said. "Week by week, that's how we look at it."