Men's Varsity Soccer
By Oliver Van Aken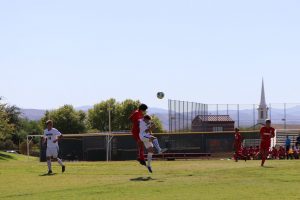 Men's varsity soccer defeated the Palo Verde Panthers 2-1 at home on Wednesday, Aug. 28. Junior Javier Vazquez-Estrada managed to score the first goal of the game. While junior Ryan Wilkinson assisted senior Andreas Amirkhanian to make the game-winning goal.
In the second game of the week, the team tied versus Centennial High School 0-0 on Thursday, Aug. 29. 
"We felt disappointed that we couldn't get the win," sophomore DJ Kiernan said. "We are trying our hardest in training to work on finishing our chances and scoring a lot more. Doing this will help us score more goals and never have a game like that ever again."
The next home game will be held today at 3:30 p.m. versus Arbor View.
Varsity Football
By Isaac Anwar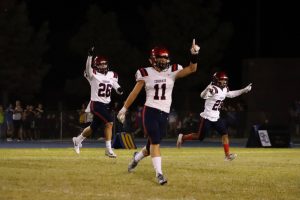 The men's varsity football team beat the Moapa Valley Pirates 9-8 in an away game on Friday, Aug. 30. The Cougars' early offense overwhelmed the Pirates during the first quarter. Senior Andrew Montez completed a touchdown securing the early lead. Cougar defense held off the Pirates for the remainder of the quarter.
The Cougars defense kept the Pirates at bay for the majority of the second and third quarter, but the Pirates managed to score a touchdown in the second and a safety in the third. Moapa had the lead 6-8 heading into the fourth quarter. 
"Our team fought hard and our defense was able to hold them off for a long time." junior Chase Samuels said. "The offense pulled themselves together by scoring a field goal up securing the win in the second half." 
In the last quarter of the game, the Cougars took the lead and secured the first victory of the season with a field goal. Since this was a non-conference game, it will not count towards their season standings. The next game will be an away game against the Sunrise Mountain Miners on Friday, Sept. 6.