Men's Varsity Soccer
By Bryce Becker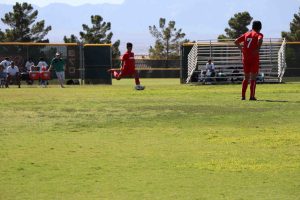 Men's varsity soccer defeated the Liberty Patriots 4-1 in a home game on Wednesday, Oct. 2. Senior Lincoln Aquino led the Cougs with two goals while junior Javier Vasquez-Estrada scored one. After scoring in the first half the Cougs were able to hold the lead for the rest of the game. 
"The team has been working hard at practices on set plays and finishing," Junior Taye Adams said. "The more work we put in at practice really reflects in the way they play."
In the second game of the week the Cougars beat Durango 1-0 in an away game on Friday, Oct 4. Though the game remained 0-0 in the first half, the Cougs scored in the second half and take the win. Varsity plays again in an away game against Green Valley on Thursday, Oct. 10.
Varsity Football
By Roby Tan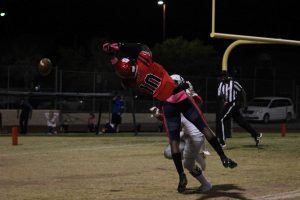 Varsity football lost to the Green Valley Gators 16-19 in a home game on Friday, Oct. 4. Although they lost the match, varsity football out scored the Gators in the second and fourth quarters.
"I think our team made some good plays, but there are definitely some things we could do better," senior Wilson Scow said. "We made mistakes on both sides of the ball. I think we need to focus more leading up to the game, so we can be more mentally prepared to play and to execute the things we did during practice." 
Varsity Football's next game is on the road against the Foothill Falcons on Friday, Oct. 11. 
Men's and Women's Tennis
By Ryan Kelleher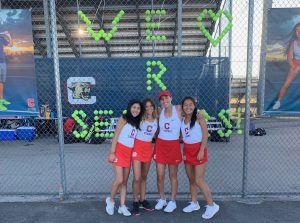 The men's varsity tennis team defeated the Desert Oasis Diamondbacks 16-2 on Senior Night on Wednesday, Oct. 2. Junior Aiden Benoualid contributed to the team's win by winning all three of his singles matches. Women's tennis also defeated the Diamondbacks 13-5. 
"We had a really good season, and I am excited for playoffs," junior Ian Hawkes said. "These last few practices before regionals are very important. We have to keep practicing our fundamentals."
Men's tennis has a record of 11-1 while the women's team is undefeated, 12-0. Both teams play again in the first regional playoff game at home on Friday, Oct. 11. 
Cross Country
By Roby Tan
The Cross Country meet was held in Huntington Beach on Saturday, Oct. 5. Cross Country girls went from placing 13th last year to winning first place this year.
"It's challenging, but it is a really cool experience to run with hundreds of other teams," senior Claire Rawlins said. "Our team did awesome because we work hard, and it always pays off. Although it wasn't my best race and I was feeling kind of funky, we did great overall as a team."
Cross Country's next meet is at Palo Verde on Saturday, Oct. 26.
Women's Varsity Soccer
By Riley Cable
Women's varsity soccer crushed the Durango Trailblazers in a home game on Friday, Oct. 4. With four goals in each half, the women ended with a final of 8-0. In a game earlier in the week, the Cougars took a 2-0 victory against Liberty in their away game. 
"Last couple of practices we worked on runs, going forward and freekicks," junior Carly Gustafson said. "I think that helped us win our last couple of games, but really staying positive, working as a team and enjoying ourselves on the field ultimately helped us win. I think we still need to work on set pieces for when we come across harder teams, but so far they are coming along. 
Women's play their next game at home on Thursday, Oct. 10 against the Green Valley Gators.