By Isaac Anwar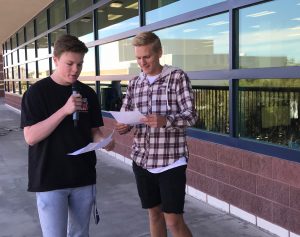 Homecoming is the busiest time of the year for student council members. Weeks of planning and lots of teamwork is necessary. The most crucial step is figuring out a great theme since the theme is the foundation for all other activities involving homecoming. 
An assembly theme can make or break the entire week. Decorations for the assembly are created around the theme, and each class has to decorate their section based on it. Deco Committee decorates the main floor of the gym. The theme also acts as a guide for the performances and games. The performances and games incorporate the theme.
"A good theme makes it so the student body can find joy in participating in our spirit days," Mrs. Swenson, StuCo advisor, said. "Finding a good theme is just as important as getting straight A's tor students."
Homecoming assembly is planned and organized by Assembly Committee. Student Council members choose what committee to be a part of, and so this committee has to create a very strict schedule for the assembly. They have to find and coordinate performances and games to fill the time, creating an enjoyable experience for the students. The committee offers emcee auditions and writes a script for them to follow during the assembly. 
"The assembly committee team works to make an experience for cougars to feel unified and to build pride," Emma Aguero, student body president, said. "Overall we just want everyone to have a good time and enjoy themselves to kick off homecoming night"
School spirit is the overall goal of the assembly. The assembly is very memorable to the students because of both the games and performances; the performances especially are fan favorites. Both games and dances really muster school spirit. A big part of the assembly is the emcees, they have the responsibility of memorizing the script and rallying school spirit at the assembly. The emcees have to be very confident in order to hype up the crowd. 
"Emceeing is fun because of the interaction with the crowd, if the crowd is hype then you are hype," Junior Erik Dramm said, "If the assembly goes as planned and the crowd gets wild it's a pretty cool feeling."