By Wyatt Boyle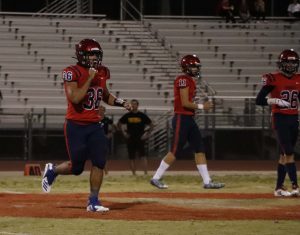 Rarely is there a student who is as admired and ambitious as junior Robert Sutton III. Robert, or as his peers call him, RJ, participates in wrestling, track, football and choir all while maintaining an exceptional 4.0 GPA. Sutton is beloved by his friends, who he affectionately refers to as "cougars" or "cougs." His work ethic impresses more than just his friends, and has been a role model and influence on many students. 
"Obviously grades come first," Sutton said. "That's just how it works at my house." Maintaining a 4.0 across honors all classes with multiple extracurriculars is challenging for even the most determined students, yet Sutton makes it look easy.
"I live for the moments that I get to spend with other people," Sutton said. "I think back to last year's spring concert and remember it was a goodbye to a lot of my friends. It was one of the best concerts." 
Sutton took part in last years spring concert singing with both the Madrigals and concert choir. It was his final concert with many of his close friends who were seniors, making it a bittersweet memory.
"He works hard in everything he does not just for himself, but for his family and friends, and because he gives everything he does 100 percent it elevates those around him to work hard too,"  Sutton's girlfriend, senior Jade Sansom said.
 Equally as impressive is how he consistently balances out music and athletics. His teammates and fellow performers have nothing but respect and admiration for him since he manages his time and energy so well. When students work with Sutton, the word "impossible" never crosses anyones mind. He makes it easier for everyone to get along, and his presence alone inspires everyone around him to be better.
"I love being the underdog; I hate being on top. It's that moment where the team can come together and come back, or in a wrestling match, alone, I come back. Seeing the improvement and using whatever you have to come back."  Sutton said.
Most people are content settling for just one or two extracurricular activities, but Sutton has been doing most of them since he was in elementary school and has never stopped. Whether it was singing from the time he was four, signing himself up for football, joining track to improve his stamina or becoming a wrestler like his father, Sutton never lets time serve as an excuse for not getting things done. 
"RJ is awesome, he's got a great spirit. Everybody loves the dude. He brings his work ethic,his integrity, his great voice and leadership skills. He's the man." choir teacher Mr. Fleischer said.