Women's Varsity Volleyball
By Lorin Alukonis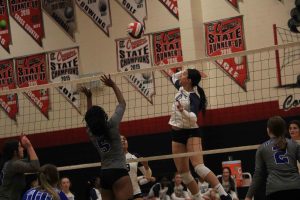 Women's varsity volleyball defeated the Basic Wolves 3-0 in a home game on Wednesday, Oct. 23. The end scores for the intense match were 25-21, 25-23, and 25-22. Senior Sara Arroyo lead the team with 15 kills followed by sophomore Ashli Dean with 14 kills.
"This game showed us how we could handle any change since Coach changed up the lineup a little," Dean said. "It made us stronger and work together more, even if we were losing we would fight. Then at the end of every set we would fight to finish with a win."
The next match is on Tuesday, Oct. 29 at Spring Valley High School.
Women's Varsity Golf
By Ryan Kelleher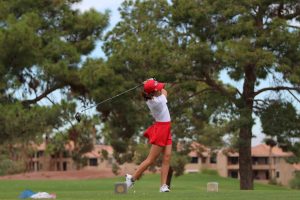 The women's varsity golf team placed fourth in the Class 4A State Tournament at Summerlin on Tuesday, Oct. 22. The Cougs managed to beat rivals Green Valley and Silverado but fell to Bishop Gorman, Centennial and Clark. Varsity had a combined score of 696 with 346 points in the first round and 350 in the second. 
"I didn't prepare as much as I should have for this past season, so I didn't play my best or what I could have shot," junior Elle Hahn said. "It was a fun season, and I'm proud of my team. I'm going to practice everyday leading up to next season, so I am more prepared."
Freshman Lily DeNunzio came in 12th overall and first for Coronado with 159 points while freshman Brooke Sodetz was 20th in the state with 168 points. Women's golf has appeared in the state tournament every year since 2008.  
Men's Varsity Soccer 
By Bryce Becker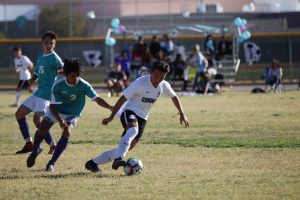 Men's varsity soccer fell to the Clark Chargers 0-1 in a home game on Tuesday, Oct. 22. Once the Cougars conceded a goal, the Chargers strong defense prevented a comeback and leading to the 0-1 loss. 
"The game started out slow, we didn't create any scoring opportunities and we paid the price," Ryan Wilkinson, junior, said. "We need to continue working on building out of the defense and taking strong shots on goal."
In the second game of the week, the Cougs defeated Silverado 4-0 in an away game on Thursday, Oct. 24. By scoring first, the Cougars strong defense was able to hold off any scoring chances from Silverado. The Cougars are 8-3-1 in league and play again on Tuesday, Nov. 5 at Bettye Wilson.
Women's Varsity Soccer
By Riley Cable
In their home game on Monday, Oct. 21, womens' varsity soccer took the win against Spring Valley. Adding another shutout to their record, the final was 8-0. The team also had an away game on Tuesday Oct. 22 at Clark High School, and they secured the win 7-1. 
"As regionals are approaching, we are working a lot on just playing as a team and getting a lot of opportunities closer to our goal," sophomore Molly Russel said. "I believe we still need a couple of practices to completely prepare for next week, but I definitely think we are ready. We work together really well, and I personally believe we can win the whole thing this year." 
Their final game of the week on Thursday, Oct. 24 was Senior Night. Playing against the Silverado Skyhawks, the cougars were able to make the night more memorable with a 7-0 win. 
The women's team have an off week before they face an opponent at regionals on Monday, Nov. 4 at Bettye Wilson Park. 
Varsity Football 
By Ellis Sondrup
The Cougars blew past the Chaparral Cowboys on Thursday night for senior night and the last home game of the season. The 40-21 win pushes the Cougars to a 5-4 record along with a playoff appearance against Gorman in the future. 
The Cougs stayed in control throughout the game, never letting Chaparral take the lead. The second quarter brought a score of 7-14, the Cougars leading going into half time. 
The second half brought more than excitement. Multiple players went down, including a Cougar lineman, out with an ankle injury for the remainder of the game. Midway through the fourth quarter, the Cougars made a critical sack of the Cowboys' quarterback, however the hit proved too hard, knocking the quarterback out cold and causing a 20 minute delay. 
Despite a scare in the fourth, the Cougars pulled through with a senior night win and look forward to next week's game. 
"I'm super happy we pulled off the dub for senior night so we could be in the playoffs," senior Wilson Scow said. "Liberty is going to be a tough game next week. They have good players and a good program. We are going to grind at practice this next week so we can try and give them a run for their money."  
Coronado faces Liberty in an away game on Friday, Nov. 1 in their last regular season game.