By Isabella Burnette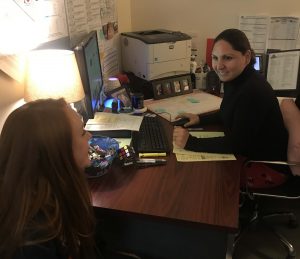 Current sophomores and juniors can enroll in dual credit classes for English, math, science, social studies, performing arts and career & technical for next school year. Students who take these classes will receive high school credit and six college credits. In-state colleges like UNLV and UNR will accept these as transfer credits, as will many colleges and universities across the nation; however, all students are encouraged to research the specific transfer agreements for the school s/he is applying to.
"I'm not totally sure how many state colleges will take these dual credits," counselor Mrs. Williams said. "I recommend a student checks with their counselor first if they want to take dual credit and go to an out of state college."
Elective courses that transfer to both UNLV and UNR are MATH 120, STAT 152, CHEM 105, ENV 101, SOC 101, PSY 101, MUS 121/122 and EDU 250, 214, 203 and 206. CRJ 104 and SOC 102 will only transfer to UNLV. Only English 101H/102H, Math 126H/127H and HIST 101/102H will count as high school honors credits. Taking six, year-long dual credit classes could earn roughly a year of college credits (36).
"Unless designated as an Honors course, Dual credit will not weigh your GPA, but AP classes will," Williams said. "All AP courses aren't guaranteed to transfer to UNLV and UNR, but they will look better on your college resume."
Counselors recommend dual credit classes for students staying instate or know the college they are planning on attending will accept the credits. In order to take a dual credit class, students need a 3.25 GPA or a composite score of 21 or higher on the ACT. A credit costs $233 at UNLV and $207 at UNR, and each course is three credits (cost of $621+ per course) and one semester of a dual credit class in high school only costs $75 to earn the same three college credits. 
"Dual credit could potentially save you thousands of dollars in the long run," counselor Mrs. Schaefer said. 
Sophomore and juniors must complete a google form posted on the Coronado Counseling website from Monday, Dec 16. to Saturday, Jan. 11 to pick their elective dual-credit course choices for next year. Class of 2021 will meet with their counselors from Tuesday, Jan. 21 to Friday, Jan. 31. Class of 2022 will meet Monday, Feb. 3 to Friday, Feb. 14, and class of 2023 Tuesday, Feb. 18 to Friday, Feb. 28. The last day students can make any changes to schedule requests is Monday, Apr. 20.