By Isabella Burnette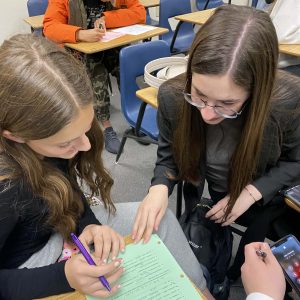 At a certain point, Khan Academy and Google Translate aren't enough to help a struggling high school student with homework. Fortunately, Coronado offers peer tutoring to any students struggling in math, science or Spanish; Ninety percent of students who get tutored report better grades and complete their homework on time. Mu Alpha Theta, Science Olympiad and Spanish Tutoring Club are all clubs that offer extra help.
Spanish Tutoring Club meets every Thursday in room 312 after school for approximately 45 minutes and is open to any students who want extra help. Mrs. Barbarita is the advisor, but she isn't the only teacher who is involved with the club. The other Spanish teachers give their students the opportunity to go into tutoring and improve their grade. Students are allowed to correct their quizzes during this time and earn half credit back. AP Spanish students act as tutors and assist any students having a hard time learning the language and help make the quiz corrections.
"Spanish club has probably made a whole letter grade impact on my grade," sophomore Ella Mcdevitt said. "When I fall behind on whatever I'm learning in Spanish at the time, I go and it always helps."
Mu Alpha Theta was formed in 1957 by the University of Oklahoma to inspire interest in math, and it offers more than $300,000 in scholarships every year. The club meets on Tuesdays in room 832 and on Thursdays in room 826. Students enrolled in any math class can walk in and get the help they need from peer tutors. Tutors must have the equivalent of two years of college preparatory math, like Algebra and Geometry, be enrolled or completed a third year of college preparatory math and must have a 3.0 math grade point average. The tutors in this club are open to many opportunities and scholarships, and it helps the students in need. 
"Tutoring is not only a good program for students that are struggling but also for the tutors themselves." advisor of Mu Alpha Theta Mrs. Mitchell said. "It looks good on college applications and helps the tutors improve their own knowledge of math."
There are Science Olympiad meetings before school on Tuesdays and after school on Thursdays in room 909. Any student in need of science help is welcome to ask for anything from help on one homework question to understanding a whole lesson. For one to be a tutor in this club they must be enrolled or have completed AP Chemistry. It is a way for the AP Chem students to earn extra points in their class and get more hands-on practice with the subject. 
"Any student that comes in will get the help they need from any of the tutors." an advisor of Science Olympiad, Mrs. Young said. "The club is great for both the students who struggle in science and the AP Chemistry students because their class is so difficult."
Whether it's to be a tutor or get tutored, these clubs are welcoming to any student. The clubs may require a small fee. They are a great source of opportunity and look great on college applications. Students can talk to any advisor or teacher of Spanish, science or math to join or ask any questions about the clubs.