By Isabella Burnette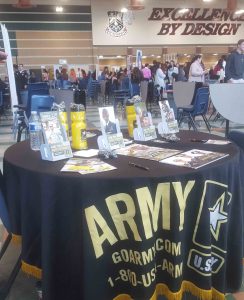 The college and career fair is on Thursday, March 12th in the cafeteria from first to fourth period. The fair is a way for students to learn about different career, college and military opportunities. There will be delegates there representing various colleges or careers to answer any questions students have.
"I went to the college and career fair last year with my teaching and training class," sophomore Rianne Kirschner said. "It was fun to walk around and see all the different careers even though I wasn't old enough yet."
All juniors with U.S. History in periods one through four will attend the fair during their history class. Any juniors with U.S. History periods five or six must sign up in the college and career center to attend the fair. Other grades can also sign up and attend during their elective period.
"It was packed with so many colleges and jobs last year," junior Alyssa Marquez said. "That is where I applied for my lifeguard job that I am working at now." 
Colleges and universities, vocational/trade schools, military, first responder courses, ACT/SAT preparation, hiring companies and other careers and educational opportunities are offered at the fair. Some popular companies attending are Chick-Fil-A, City of Henderson, Henderson Recreation Center, Raising Cane's and Firehouse Subs.
"You'd be surprised by how many kids come and ask questions," college and career advisor Mrs. Tidball said. "They are so curious about the career fields; they are exposed to so many different ones."