By Bryce Becker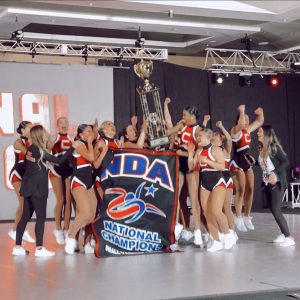 After countless practices and a year full of preparation, the varsity Cougarettes finished the dance season winning the national title in the jazz category at National Dance Alliance (NDA) nationals in Orlando, Florida. The team traveled to Orlando to attend the NDA National Championship from Saturday, March 7, through Sunday, March 8.
"Winning nationals means that all of the hard work put in the entire season finally pays off," sophomore Alexa Farber said. "The best moment of the season was definitely nationals, seeing the dances performed our best and last times. My favorite thing about the team is the connection, love and support the entire team has with each other and the bond we maintain all year."
For the jazz division, teams were judged according to performance impression, uniformity, quality of movement, technical elements, choreography and staging.
The Cougarettes previously qualified for nationals in early February. Judges from the NDA who run competitions for high school dance teams are sent to competing schools where they decide which teams qualify for nationals in March. This year was the team's fifth consecutive nationals appearance.

"Winning nationals meant everything to our team, we put so much time and energy into our dances and practices almost everyday for multiple hours," junior Graylin Gogolak said. "So to see that our hard work was nationally recognized was amazing."