By Ryan Kelleher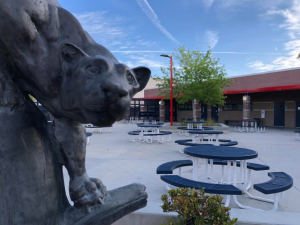 Editor's note: Following Governor Sisolak's extended social distancing and "Stay at Home" directive, Clark County School District extended school closure until Thursday, April 30. The District announced that food distribution sites will continue to service. 
"CCSD is actively deploying devices and addressing connectivity issues to reduce inequities preventing as many as 60% of our students from participating in learning opportunities through digital platforms," CCSD Superintendent Jesus Jara said. 
Governor Sisolak canceled schools statewide, including all schools in the Clark County School District, effective today until at least Monday, April 6. Spring Break is still established from Monday, April 6 through Monday, April 13, so as of now, students should plan to resume normal school attendance on Tuesday, April 14. 
This should not be treated as an extended Spring Break or extra days off school. Teachers have been encouraged to utilize digital platforms to be in contact with their students. All Advanced Placement (AP) classroom content is still accessible and should be used accordingly for students in AP classes. For students who rely on the school for daily meals, information on where and when to get food is posted below.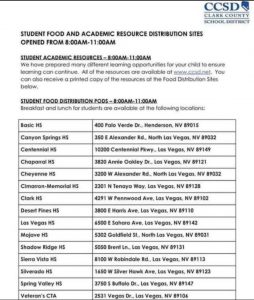 In order to stay healthy and prevent the spread of the Coronavirus (COVID-19), everyone is highly encouraged to wash their hands with soap often, use hand sanitizer and avoid touching their eyes, nose and mouth. People are urged to avoid close contact with one another and stay home if sick. It's also important for people to sneeze and cough into tissues and wash their hands immediately after.