By Lorin Alukonis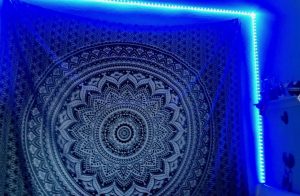 Over the span of about 7 months, new clothing styles and trends have rapidly grown amongst Gen Z. The emergence of these trends can give its credit to the Coronavirus pandemic. During the enormous amount of free time, teenagers all over Vegas created new ideas for self-expression.
Since most of the average day is spent in our homes, new room decorations have accumulated. Some of the most popular trends are LED lights, tapestries and fake grape vines that hang from the walls. The mass majority of teenagers own one or two of these little trinkets because of how widely they were influenced through social media platforms such as Tik Tok. Through this app, many videos rose up about how to style a room with these decorations so people could create their own environment that fits them best. 
"I actually bought LED lights a while back because most of my friends had them," sophomore Ellie Wilkinson said. "I've also been wanting to get more tapestries, so I ordered some on Amazon for a pretty cheap cost, and I love them because they cover most of my wall rather than just a small portion."
Another extremely popular trend is the return of the Polaroid camera and placing the printed photos on walls. They have risen in popularity again because of the desire to have physical photos rather than digital and the fact that they have a "vintage" look. Along with polaroid pictures, regular photo prints have also been placed across the walls of many. Teens everywhere have been printing out aesthetic photos that follow a certain color pallet and organizing them into a neat collage.
"Basically I went on Pinterest and found a bunch of cute and colorful pictures and put them in a google doc and resized everything so it would fit the page," junior Olivia Morris said. "I then printed so many pages and spent a few hours cutting everything out, and I also bought some double sided tape and made sure to set up the pictures just how I wanted."
Clothing styles have also changed dramatically during quarantine. Teenagers felt more open about experimenting and taking a bold approach to their outfits. High schoolers started modifying existing clothing, and changing the entire piece; this can be tie-dying or even sewing outfits to fit a certain body shape. Everyone has seemed to bring out their crafting skills to create new, unique items. Other accessories have been incorporated into this new clothing era, for example cowboy hats, chains, ankle bracelets, dangly earrings, and more; early 2000's and 80's clothing trends have also been included like the simple pastel outfits and baggy clothes. 
Hairstyles have also evolved for both boys and girls during this quarantine. Earlier in the year, many barber shops and hair salons were closed, and as a result, many people resorted to trimming and fixing up their own hair. A large number of men decided to shave their heads because it was easier than spending time cleaning up the larger portions and having to cut their hair again in a matter of weeks. For the girls, a great deal chose to dye their hair a subtle pink or dying the bottom portion an unnatural color such as green, blue, pink, or even bleach it.
"For a while I was considering shaving my head like a lot of other guys because I didn't want to keep cutting my hair over and over again," freshman Dylan Gunn said. "Luckily all the hair places started opening up again, so I was finally able to trim my hair down."
As a result of being recommended to staying indoors, many of the self-expressive traits of teenagers have evolved with help from social media. With all the free time inside, over time, simple things that showed one's personality gradually changed into what it is now today's trends.