By Aubree Gearhart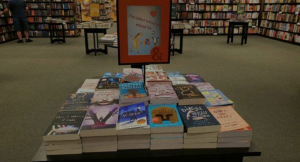 Charli D'Amelio and Addison Rae aren't the only ones going viral on Tik Tok anymore. Over quarantine, everyone started to pick up their books again and make videos about them, creating the trend known as "booktok." Tik Tok popularity has led to great books gaining recognition as well as tons of fans.
All the Bright Places, written by Jennifer Nieven, is described as "The Fault in Our Stars meets Eleanor and Park". Published in Jan. 2015(made into a movie adaptation in Feb. 2020),the novel follows Theodore Finch, a boy who is fascinated by death, and Violet Markey, a girl living for the future. When the two teens meet on the edge of their school's bell tower, it becomes unclear who saves who. Finch learns that it is only with Violet that he can be himself, and Violet learns to stop counting down the days until graduation and start to actually live them. Yet, as Violet's world expands and grows brighter, Finch's starts to shrink and grow darker. This is a very well-written, heart-wrenching novel with the complex characters and a plot, which keeps readers on the edge of their seats. 
The Lake is a young adult mystery novel written by Natasha Preston. Esme and Kayla have been best friends since they were eight years old. They were once campers at Pine Lake, but this year they're excited to be back as counselors in training. Esme and Kayla think it's funny how scared the kids are of everything– reminding them of how they were before the accident. Esme and Kayla made a huge mistake when they were campers that they've never been able to live it down, and the girls swore to keep it a secret. It's been 10 years since it happened, and they've moved on– or at least that's what they've been telling themselves. The summer was going to be one of the best summers yet, with two months full of sun, s'mores and flirting with the cute counselors–until one day they received a suspicious note. "THE LAKE NEVER FORGETS." The secret that Esme and Kayla have kept hidden for 10 years is about to resurface, and it's going to get them into some hot (lake) water. With the absolutely shocking plot twist "The Lake" is a 10/10 read for those who love suspense. 
Described as "The Breakfast Club meets Pretty Little Liars", written by Karen M. McManus, "One of Us is Lying" is a YA mystery novel. Five kids (Bronwyn, Addy, Nate, Cooper, and Simon) are walking high school stereotypes- the brain, the beauty, the slacker, the golden boy and the social reject. Simon is the reject, and also creator of Bayview High's popular gossip app "About That". The five teens are all given detention for having their phones in class although they know that their phones were in their locker–the phones were planted on them. Yet,Simon never makes it out of detention;Simon has an allergic reaction from the water that he drank from the tap and dies on the way to the hospital, and according to the investigation, his death was not an accident. Simon was planning to share life-changing secrets about Bronwyn, Addy, Nate, and Cooper, which makes them all suspects in his murder. Everyone has secrets, but how far will the kids go to keep them? Although the novel has decently long chapters this book is sure to keep you at the edge of your seat and wanting to know more. With several unexpected plot twists, this book is a great read for those who get sucked into murder mysteries.If you liked shows such as Pretty Little Liars this is the book for you. 
11 Paper Hearts was written by Kelsey Hartwell and is a YA romance novel. Ella had the picture-perfect life, with friends who adore her and a boyfriend who loves her. An unexpected car accident occurs after a Valentine's day dance, and once Ella wakes up in the hospital, she isn't able to remember the accident or the weeks before. Including the reason that she broke up with her boyfriend (now ex-boyfriend), a year later, she starts receiving paper hearts from an anonymous admirer, who has the answers that Ella needs. The watercolor hearts have clues to help her remember life before her car accident, and her admirer takes her on an adventure she never dreamed of. Of course Ella follows these intriguing paper hearts, but what will they lead her to? This book is a quick read with an amazing plot and backstory, containing heartwarming romance, with jaw dropping plot twists. 11 paper hearts is a great read for those who love to be lost in romance. 
All Fall Down written by Ally Carter is a YA mystery novel. Grace Blakely is the granddaughter of a very powerful ambassador on Embassy Row, who she recently moved in with after her mother died, but Grace is certain that her mother was killed. Although everyone thinks she's crazy, Grace knows what she saw and heard. Since she moved to Embassy Row, everyone has asked Grace to act like she knows nothing and just put on a pretty face, but Grace is going to do the exact opposite in order to get the answers she wants. Grace's past has come back to haunt her, and she won't be the only one who gets hurt. With her amazing writing style, Ally Carter knows how to keep readers on the edge of their seat. For those who love quick and unbelievable plot twists with subtle slow burn romance All Fall Down is an amazing read. 
From the sappy YA romance novels to the thrilling YA fantasy novels, there are several different genres of books that have come to the attention of "booktok". These books are popular because they're well-written, and readers all over the world fawn over them. There's something for everyone, so get cozy, grab a book that piques your interest, and enjoy your reading.