Swim and Dive
By Ellis Sondrup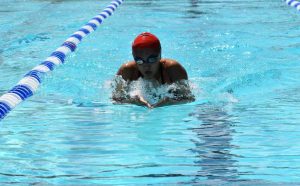 Swim and dive continued their fantastic season on Saturday May 1st against Las Vegas, Liberty and Foothill. The Cougars put up strong swims and continue to dominate the other schools in the region through the season.
Coronado's lineup was a bit shaken due to many swimmers being out of town, however, fast swims were not limited. Among the highlights were the women's medley relay, swimming with a time of 2:00.19 and the men's 100 yard breaststroke led by Ethan Chir at a 1:03.02. Regan Holmes swam a 55.92 to take the women's 100 yard freestyle and Vinny Garritano came in with a 57.42 100 yard butterfly.
"The meet this past weekend wasn't too bad. I feel like for me I'm swimming exactly or maybe even better from what I was expecting, given the circumstances we are under" said junior Kylie Beaudet. "The season overall has been pretty good. It's definitely a bit weird having no timers behind the blocks and it's just yourself standing getting ready to race."
The Cougar's next meet is Saturday May 8 where they will swim against Silverado, Valley and SLAM.
Varsity Softball 
By X Turgeon
Following three straight wins in the previous week, the Cougars' softball team faced off against Desert Oasis, Green Valley, and Faith Lutheran in some of their final games of the season. 
On Monday, 4/26, the Cougs Softball team faced off against Desert Oasis for their fifth game of the season. The team trampled over Desert Oasis with an 8-2 win. Senior Sydney Smith put up three runs on the board herself, including a home run. With that win, the Cougs record moved to 4-1 for the season. Come Wednesday, 4/28, the team suffered a 1-6 loss at the hands of Green Valley. The cougar's only run came from sophomore Sarah Sullivan, but unfortunately, the team ultimately lost, and now advanced with a 4-2 record.
"I'm really pleased with [how I played] last week. It's been a challenge playing games back to back to back," senior Sydney Smith said. "But with the help of my defense, my confidence on the mound has been able to grow greatly. I'm really looking forward to all the future games I get to play with the Coronado jersey. I love my team and in the past four years, these girls have become family. Playing with them is always so much fun and I would do anything to continue that experience."
Coming off of a heartbreaking league loss, Coronado faced off against Faith Lutheran on Thursday, 4/29. The team was able to shut out Faith Lutheran 6-0 which effectively relit the fire in the team after the loss from the day before. While the Cougars were on a roll for the first 4 innings, they ended up finishing with the last three innings all scoreless. After the shut-out win, the Cougars record is now 5-2 and they hope to keep this momentum up until the end of the season. 
"I was thrilled about my performance in my games last week," senior Willow Bachiochi said. "Although I can never settle for that because there are a lot of ways I can get better. With that being said, I'm looking forward to playing my last home games as a senior but staying focused on the task. Communication is key, and most importantly having fun.
The Cougars softball team will continue their season Monday, 5/3 against Palo Verde where they'll fight to continue their win streak. 
Track and field
By X Turgeon
At Coronado's second home meet of the 2021 season on May 1, both the men's and women's teams took first place against Mojave, Green Valley, and Pinecrest Academy.
Men's Track and Field dominated the sprints with the top five times of the 100m going to Coronado athletes. In both the 100m and 200m, Noah Bringhurst took first place with Chris Avila and Duncan York trailing closely and setting season records. Men's Pole Vault dominated with Ashton Zaidi clearing the way with a 12-00.00 vault resulting in first place for the event. Men's Shot Put and Discus athletes all managed to finish within the Top 10, with Giovanni Suarez obtaining a PR with a 27-02.25 throw in Shot Put. 
"So far I feel like I keep improving with my throws," senior Jericho Andaya said. "I hope I can keep getting better with the rest of my team and throw a qualifying flight."
Women's Track and Field came out swinging with three of the top five places of the 800m going to Coronado runners. In the 3200m, Senior Ashlyn Hayes took first place with a time of 13:31.46. In the 4×100, 4×400, and 4×800, Coronado relay teams all snagged first place as well. In Shot Put, Senior Emma Long took fourth with a PR flight of 24'10" and in Discus, Brooke Dougherty threw a PR flight of 62'05",  taking fifth in the event. In the High Jump, Kaylee Daniel took first place with a height of 4'06" and Eryn Roques followed closely behind with a jump of 4'05" securing second place. For Pole Vault, Coronado took four out of five of the top spots with Kaylee Daniel taking first place with a vault of 10'00" effectively topping Green Valley's vaulter by six inches. 
"I was really excited to get into the ring," senior Emma Long said "I'm looking forward to the rest of the season and hopefully qualifying for regionals this year."
The Cougs will continue their season this Friday, May 7 for their third home meet against Green Valley Christian, Liberty, and Lincoln County.