By Brianna Gracia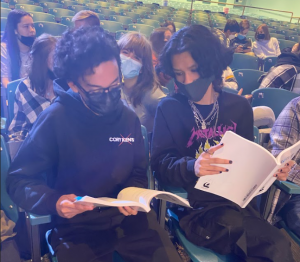 Coronado's production of Hairspray is set to release on February 9, 2022, and run through February 12, 2022. The cast list was released this weekend; what an incredible lineup! To name a few of the stars, Madison Campbell and Olivia Vasquez will be playing the role of Tracy Turnblad, and Brooke Dougherty and Carly Broth will be playing Penny Pingleton. Trey Torrez will be playing Link Larkin, Addie Zolik and Addie Wagner will be playing Amber Von Tussle, and Lukas Pool will be playing Seaweed Stubbs.
The audition process was no easy feat, as up to 150 students usually audition for the spring musical every year; each person must have a successful vocal and dance audition before even being considered for the show. After that, those who make the cut must attend callbacks, where they sing characters' songs, read character lines, and test chemistry. The competition was fierce, but in the end, casting decisions were successfully assigned.
Hairspray's message is filled with the concepts of diversity, inclusion, and unity. Taking place in the 60s, the musical focuses on equality and acceptance. The movie Hairspray was first released in 1988, then adapted for Broadway in 2002. Now, it's making its way to Coronado. 
"I knew I wanted to come in as strong as we left it after the success of Les Miserables before the pandemic. Hairspray is a story about justice, inclusion, and acceptance," Mr. Torres, the director said. "Based on the current climate of the world, I 100% wanted to select a show that could positively influence others, so Hairspray was the obvious choice."
Even with the pandemic, Coronado's Theatre Program won't let anything keep them from the stage, though it hasn't always been smooth sailing. During the height of the Covid-19 pandemic, it was nearly impossible for anyone to perform safely, stalling the possibility of an in-person show. Now as restrictions are loosening, the cast of Hairspray is more determined than ever to rejuvenate the magic of the performing arts.
"Theatre is a very social art form. The nature of theatre is that we work closely with one another to produce a play and the pandemic did not allow us to do that, as we were used to," Mr. Torres said. "We were lucky that we are one of the few theatre companies in this state that still had a full season including a virtual fall play and a small musical in June during the pandemic. Nevertheless, it still stunted our success and growth. We have a great group of theatre and technicians this year, and while we still have a lot to learn to keep the stellar form of our Theatre Department, I know we will have no problem doing that with a little hard work." 
The cast of Hairspray will undergo rehearsals for the next 4 months. Be on the lookout for show information – this is a performance no one will want to miss!