By Brianna Gracia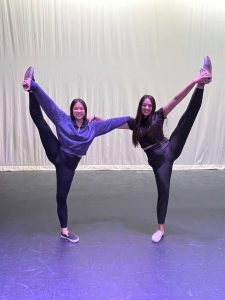 Kayla and Leila Wong, both beloved members of the performing arts department, are graduating seniors this year. For those who are unfamiliar, the siblings have been involved in many things such as Madrigals and were student choreographers in Coronado's production of Hairspray. While the two are well-rounded in various activities here at Coronado, both have a passion for Scottish Highland dancing.
"I started dancing when I was four years old, but it wasn't highland dancing," Kayla Wong said, "I was doing tap, jazz, and ballet, then I switched to hula in second grade, and then became a Scottish Highland dancer at age eight. My dancing career really took off when I won my first premier (highest level) competition." 
Scottish Highland dancing is a style of competitive solo dance. Performers show off not only athletic skill, but also artistic talent as they bring music to life. It takes long hours of practice and commitment to get to the level Kayla and Leila have achieved. Both have received their associates in Scottish Highland dancing via outside certification. 
"I started dancing when I was around four at Dance Zone, taking ballet, tap, and jazz lessons," Leila Wong said. "I'm actually a Scottish Highland dancer, and now I can teach Scottish Highland dancing."
Both twins were introduced to dance at a young age. Coming from a musical background, Kayla and Leila have practically grown up in the performing arts world. Their parents did dance, musical theater, and more. 
Kayla and Leila were accepted and intend to attend BYU Provo, although they aren't certain what they plan on majoring in just yet. However, Kayla is gearing towards something dance or teaching-related. 
"I didn't know that it was something I was serious about right away," Kayla Wong said. "But it definitely became a serious thing when I started competing. In high school, freshman year honor choir and the musical really got me into singing and dancing even more." 
Leila is looking to pursue something in the field of music, performing, or music education.
"I don't think I imagined myself, when I was little, being a competitive Scottish highland dancer," Leila Wong said. "But by the time I got to school, I started to imagine myself as a performer or a teacher in music, which is what I'd like to do in the future." 
Though the two are diverging on their own paths, they can agree Coronado had a great impact on their future. Through leadership positions, activities, and encouraging staff, they are more prepared for the future. 
"Getting to experience choir and theater and even getting the opportunity to lead has definitely helped me," Leila Wong said. "This year I was an assistant choreographer for the musical, and for the past four years I've choreographed things for choir and it has taught me so much." 
Kayla can agree that she has also grown tremendously throughout her high school career. 
"For the first years of high school, I was still learning all about performing," said Kayla Wong. "Now, I have been given leadership positions which give me opportunities to teach and lead others. I was also in the NHS and Key Club. My time at Coronado has allowed me to experiment with a few careers I am interested in." 
Teachers that have worked with Kayla and Leila can agree it has been an absolute pleasure to see these two through their high school careers. Having to say goodbye can be hard, especially since they've known the girls for all four years.
"Leila and Kayla have been amazing leaders in every way possible, and have been a huge part of the success of our program this year,"  Mr. Fleischer, Coronado's choir teacher, said. "I can't thank them enough for everything they have done for me and all of us. They will be missed so much." 
Mr. Torres, Coronado's theatre director, has also had the honor to watch the girls grow throughout their highschool career. 
"I first met Kayla and Leila Wong their freshman year," Mr. Torres said. "They were both some of the most astute and details oriented students in my film studies class. I had no idea they would soon become some of the most active theatre students and dance captains in the Theatre Department. I wish Kayla and Leila continued success in their performing careers – as I know it will be a long lasting one." 
Kayla and Leila shared that many teachers helped them along the way, as well as role models outside of school. They believe that their experience at Coronado is one of a kind – and that they couldn't have gotten this far without them. 
"The people that have helped me the most throughout school would have to be my middle school choir teacher, Jennifer Lowry, Coronado's choir teacher, Eric Fleischer, Coronado's choir teacher, Rommel Pacson (the choreographer for all of our spring musicals), and my wonderful parents for always supporting me," Leila Wong said.
Kayla also expressed her appreciation for the role models that gave endless support and assistance during her high school career. 
"The people that have helped me throughout my high school career are Mr. Fleischer, Mr. Torres, Mrs. Galvin, Mrs. Bolken, Mrs. Chura, Mrs. McSorely, my friends, my parents, my dance teacher, and my piano teacher," Kayla Wong said. "Coronado has given me opportunities to do what I enjoy, experiment with careers, and learn and grow in the performing arts department."