By Lorin Alukonis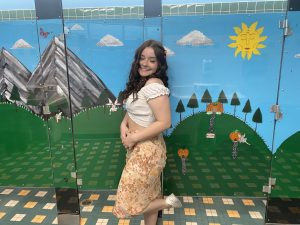 Senior Sasha Gilson may seem like the average girl who loves the performing arts, but the impact she has made on the school is sure to stay. From playing high school volleyball to designing the bathroom stalls, she loves participating in school-oriented activities and making an impactful change.
In the midst of the pandemic and distance learning, Coronado decided to renovate the school. This included replacing the floors and painting the walls, and they were looking for students to help in this project. Staff reached out to talented individuals to help paint the bathroom stalls in both the men's and women's bathrooms, one of which was Gilson. Going out of her way, she came in after school and on the weekends to complete this intimidating project with her talent.
"I was asked at the beginning of my junior year if I wanted to participate in a project, and I agreed not knowing what I was getting myself into," Gilson said. "I found out I would be doing a mural and thought it would be tiny, and then I got the news back that it was going to be the entire bathroom. I was given full creative rights, and I was into fairies at the time, so I created a fairy garden."
However, Sasha isn't just a talented artist. By participating in summer camps and intramurals, Sasha prepared herself long before her freshman year to participate in Coronado's volleyball program. In 2018 she played on the freshman team, then made JV in 2019. However, because of quarantine last year, she was not able to have a season in her junior year. Luckily in her senior year, she was finally able to play on varsity. During the time in between high school seasons, she played club volleyball, trying to improve for the next season.
"I enjoyed high school volleyball because of the friendships I made with some of the girls," Gilson said. "It was definitely an experience playing for three years at Coronado. I remember our freshman game against Liberty. I was put in as libero (defensive player who only rotates in the back row) and I never felt more accomplished. I was finally able to prove myself in the spot I worked for for 10 years. I was so focused. We played very hard, and we stormed the court when we won. It was definitely a core memory for high school volleyball."
Before this school year, Gilson felt lost and didn't know what she wanted to do in college (or if she wanted to go at all), but then she found her love for theater. The welcoming atmosphere and life-long friendships inspired her to become the person she wanted. She was able to find a way for her dream to become a reality and found an excellent theater program at the University of Nevada, Reno. Gilson practiced for weeks on end for her audition to get into the difficult program; even putting her love for volleyball aside to focus on her future of performing. After much anticipation and waiting, she discovered she was accepted to UNR and into their theater program.
"Theater is the most supportive place in high school," Gilson said. "Everyone around you is wishing for you to do the best you can. It's really a family, and I love the bonding friendships I have in that class. It inspired me to audition for UNR's musical theater program and I got in. I never planned on college  but I'm glad I'm taking the route I am."
Sasha also found love for drawing over quarantine and wanted to apply it to bigger projects (such as the bathroom stalls), but also to challenge her own skills and improve as an artist. Therefore, she decided to take AP Drawing to create pieces with stronger themes and learn new techniques. For her AP submission, she decided to show the stages that a parent will undergo during an alcohol-abuse scenario.
"I decided to do AP Drawing because it's an outlet for me to release any built-up anger or sadness or anxiety," Gilson said. "I draw what I feel and it helps me understand what I'm feeling. For my theme, I decided to work around 'The struggles of alcoholism and how it affects my children.' My pieces resulted in a five-stage process: Realization, Ultimatum, Anger, Fear, and Giving in. It was something very difficult for me to work on, but it created something beautiful with a good message."
Sasha Gilson's goal for this school year was to find herself and do what she loved most. By trial and error with hobbies and new interests, she finally found where she belongs and hopes to make a successful career out of what makes her happy.