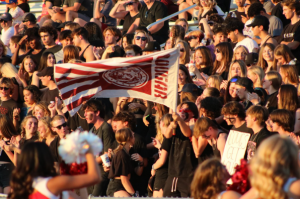 Varsity Football
by Logan Harms 
The Coronado Cougars keep their momentum by taking the win against the Clark Chargers 50-0 on August 26. The blacked-out student section was extra enthusiastic with their flags and chants that helped lead the Cougars to victory.
"I think we played a great game tonight," said senior team captain Jeremiah Kunitake (#22). "We have a bye week next week so we'll be able to get a lot of pieces back and get a lot of players back and take a week to get ready to do our thing and take on Green Valley."
The Cougar's defense is a focal point of the team's victory, with a sack by senior Amosa Mayberry (#7), and two interceptions. One by junior Ricky Edwards (#21) and one by junior Jeremiah McQueen (#24). Coronado's rushing game was unstoppable with senior Keona Espinoza (#9) rushing over 150 yards for two touchdowns, and sophomore fullback Derek Hurley (#25) getting two touchdowns. 
"We did a great job today, special teams scored like 16 points and that's amazing, I definitely think we'll be able to keep this up, and even play better against Green Valley and Silverado," said Kunitake. 
Make sure to catch Coronado against Green Valley on September 8th at Green Valley at 7 p.m. 
Men's Varsity Soccer
by: Tainá Queiroz Fonseca 
On Wednesday, August 24, the Coronado men's varsity soccer team played their first home game against Mater Academy East. The Cougars took every chance to execute and walked away with a stunning 9-0 mercy rule win. 
"I think we played fantastically," senior Demonte Gordon (#17) said. "Everyone played a tough role, and I'm proud of all the freshmen that got their chance to play at a high level." 
The pre-season game was an excellent opportunity for the rookie players to gain experience on the field. The Cougars were determined and did not give Mater a chance to score. In the first half, the Cougars took the lead 4-0. After halftime, the Cougars came back only to continue to demolishMater with five more goals that determined the Cougars to mercy rule Mater with the final score being 9-0.
"I thought we dominated the game and played well as a team," junior Finnegan Gustafson (#22) said. "We were able to play with intensity and win the game." 
Coronado walked away with chins up, morale high, and eager to face Bishop Gorman next week on September 12, at 4:30 pm.