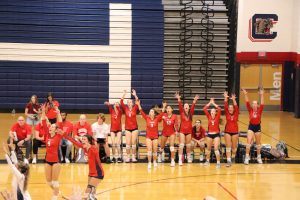 Men's Varsity Football
By Logan Harms
In their third game of the season, the Coronado Cougars (3-0) take on their biggest rival the Green Valley Gators (0-3). In a close back-and-forth game, the Cougars take the victory 20-6.
"Resiliency is something that's really hard to duplicate in practice," said receivers coach Brendon Albert. "The ability to have someone who is equally as good as you in a different colored uniform gives us the opportunity to improve against a really good football team, so I think that resilience is something we learned tonight that's going to help us move forward and take on Silverado."
The game started out with a touchdown from Green Valley, with a field goal that was swiftly blocked. Coronado then made a march down the field for a touchdown by Isaiah Bottley (#3). From then on the game was locked in a stalemate with Coronado getting only six points in the third quarter, and seven points in the 4th quarter. During the third quarter, the wind started to pick up and the field got covered in a haze of dust and dirt. Keona Espinoza (#9) ran for over 100 yards and Derek Hurley (#25) ran for a total of 9 points. Coronado's defense came to play with two sacks and two interceptions- one by Jeremiah Kunitake (#22) and one by Brandon Palmer (#5).
"I wouldn't say that the dust inhibited any performance and the reason I say that is because both teams were on the field right, so it's not like we only had wind when we were on offense," said Albert. "It certainly was annoying though."
Make sure to catch the Cougars against the Silverado Skyhawks at Coronado Field on September 16th at 6 p.m.
Women's Varsity Soccer
By Addison Stanton
On Wednesday, September 7, Coronado's Women's Varsity soccer team played their first game of the season against the Bishop Gorman Gaels. After a brutal brawl, the game ended with a 2-2 tie.
"It feels rewarding helping the team because I've been out so long with my ACL," said senior Xayla Black. "Getting to play with my best friends again is amazing especially against one of our rival schools."
The match was filled with hard work, opportunities, and response. With both benches cheering on their teammates, every foul was filled with either a positive or negative cheer. Halfway through the first half, senior Trinity Buchanan finished a ball played to her in one touch. The beautiful goal brought the Cougars up 1-0. After about 20 more minutes of back-to-back play, it was halftime. 
"The team's chemistry is looking better after each game, and it's really building. The team off the field is also super fine and intertwined, and I see it start to translate onto the field," said Black.
Halftime returned with Bishop Gorman's kickoff. Gorman put immense pressure on the Cougar's back line, eventually leading to a goal to tie up the game in the last ten minutes. In response to Gorman's recent goal, seniors Xayla Black and Milan Cordone come into play. Black swiftly flicks it onto Cordone who is running into the 6-yard box and scores with 2 minutes remaining. However, Gorman wasn't finished. Another long ball played by Gorman lead to the forward swooping up the ball and scoring causing the final score to be 2-2.
"The team can improve on staying calmer when things get hard, but it's also early in the season and we're just trying to figure stuff out. We are still learning and growing as a team," said Black.
Out for redemption, you can find the Cougars playing Sierra Vista at Coronado next week on September 13th at 4:30.
Women's Varsity Volleyball
by Jordyn Tribus
The Coronado women's varsity volleyball team played their first home game of the season with a crushing victory. The matches ended in a skew of results, series one being 25-17, series two 25-17, and the most intense, series three 25-21. Facing our winners were the Shadow Ridge Mustangs.
"I think we played really well as a team," said senior Nanea Merryman (#10). "We didn't make a lot of errors, tried our best, and played our hardest and we won"
The beginning of the game was slow, in that Coronado started with the ball and continuously put points on the board. Towards the beginning of the third match, the Mustangs seemed to find their groove and were starting rallies against the Coronado Cougars. They were no match for the stunning cougars and the Cougars came out on top.
"I thought that we brought a lot of energy which made the game fun to play," said senior Morgan Wale (#13). "We can definitely improve on our serves, but I think overall we did great!"
The Cougars will prepare and come ready to dominate in their next away game at 6'oclock against the Silverado Skyhawks.
Varsity Tennis Team
by Madeline Vernaci
The Coronado Tennis Team played against Desert Oasis in their first home game on Monday, August 29.  After a difficult match in the heat, Coronado won in both Mens' and Womens' matches, with a score of 18-0 and 12-6 respectively.  
"I think we're going to win," sophomore Mia Jevtic said. "I think we have some really good players and we'll probably do good against Desert Oasis, and because they lost some good players, so that's promising."
The game was hard won, each player matched against another from Desert Oasis, playing a total of 36 sets between the mens and womens games.  Some players were evenly matched, while others were defeated without scoring a point.  
"To prepare for this game, we've been practicing with each other, and working on different shots and strategies, and heat acclimation." junior Amanda Fisher said.  "After the last game, we worked on different movements at the net and what we were doing wrong."
After winning this week, Coronado's Tennis Team next plays against Arbor View on August 31, at 3:00 in an away game. Their next home game will be on Tuesday, September 6 at 3:00 against Foothill, both eagerly awaited.