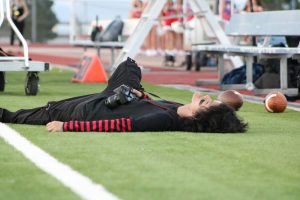 by Logan Harms 
Kyle Trinh plays a key role in creating the announcements for channel 6 news. For those who don't know, Trinh creates a majority of the short films and videos that are featured on the announcements, but he doesn't only create announcements. Kyle has been making videos for as long as he can remember, though he didn't start getting serious about filmmaking until 5th grade. 
"I was a little nerd and I would make these funny little gaming videos on my PlayStation,"  Trinh said. "Over time I developed a passion for movies and actually getting behind the camera. I always loved the behind-the-scenes of how they do things in movies and when I saw that there was an elective I thought 'this is my chance.'"
Kyle didn't really have a key moment that sparked his interest in video production, he's always had an intrinsic passion for film. Kyle's enthusiastic resolve is something that many individuals fail to achieve.
"When I was a kid I really loved the Marvel movies, like Spiderman and The Avengers, and I would always watch the behind-the-scenes." Trinh said "I would find them so fascinating and every time I saw something cool like that I would just think 'I really want to do that someday.'" 
Most teenagers don't have a clear idea of what they want to do, Kyle isn't one of them. Kyle has found what he's passionate about, and he is determined to run after it, something that many people don't do. 
"This is definitely something that I want to pursue, and when I'm in college I want to start production assistant jobs and try to make connections there." Trinh said, "It's not going to be easy by any means, but that's what I want to do." 
Kyle has an interesting process. He doesn't always create scripts or have a complete plan. Sometimes he just comes up with ideas on a whim. 
"I like to edit to music, and I like to research what I'm filming beforehand." Trinh said, "When I get to the event I like to feel out the vibe of the day before I do anything." 
Kyle goes this route because if he picks a song and writes a script and it doesn't match the outcome or vibe of the event, the video wouldn't be as good. Kyle's one tip to anyone who is interested in pursuing video production is to just do it.
"When you first start out, you're not going to be good. Most people want to wait until they have a fancy camera or something, but if you have a phone just go for it. If you really want to do this you just need to do it because you will get better as you go on; you don't need to be the best ever right as you start," Trinh said. "When I first started I definitely wasn't good. Even my first football feature from last year is night and day compared to my newest one."
Kyle's next venture will be running for Homecoming King this year, where he plans to record some interesting videos. During the football games, he plans on "raising the stakes" by slowly promoting himself more and more. 
"I didn't come up with the idea, but when I saw prom king and queen I was like, 'I want that to be me,' so if I don't win Hoco I'll go for prom king!" 
Kyle Trinh is a kind and determined person who always tries his best to accomplish his goals. If you want to see more of his videos you can check out the Channel 6 news.
"At the end of the day, if you want to do something, do it." Trinh said, "Don't think about being a filmmaker, just be a filmmaker."