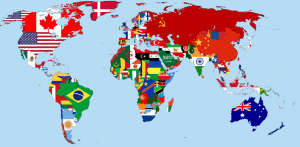 by Addison Stanton 
Summer vacation. The main thing associated with that phrase is hot days full of laying out on the beach. While that is an excellent way to relax and clear your mind, some people have different travel ideas. Some being more obscure and adventurous than others, here are the top five places traveled this summer.
Australia
Instead of having a summer, sophomore Jett Schwartz had second winter. Schwartz visited the kangaroos and the massive beaches that outline Australia. Not only is the nature and wildlife beautiful there, but the architecture is truly impressive. Additionally, places like the Sydney Opera House in New South Wales boast a range of shows from comedy to fully instrumental ensembles.
"I went to Sydney with my family," said Schwartz. "We road tripped across the country too and saw lots of things. My favorite was the beaches. I was upset we couldn't make it out to Bondi Beach, but still, I enjoyed it a lot."
The more travel in Australia, the more you realize how the terrain shifts. It goes from beaches to outback the closer you go inland. Overall, it's a beautiful place full of diverse landscapes that would please every type of person.
Croatia
Croatia, a beautiful country located in the Balkans (Southeast Europe), is home to a plethora of beautiful waterfalls and surrounding green. Not only is the nature beautiful, but the food is also delicious. Croatia is home to all sorts of delicacies like povitica (similiar to cinnamon cake). Senior Dominik Toth was lucky to travel to Croatia amongst other European Countries. 
"I went to Crikvenica and had a great time at all the beaches." Toth said, "we went tubing and went on floating obstacle courses which were really fun."
Beaches are also a main attraction in Croatia. With the coast connecting to the Adriatic Sea, the waters tend to be very clear and an amazing 72 to 86 degrees for summer swimming and relaxing.
Ecuador
Home to multiple famous landmarks, including Otavalo Markets and offshore, the Galapagos Islands, vacationing here is a true treat. Senior Noah Wong went to the Galapagos this summer and he took advantage of the good weather.
"I really enjoyed my trip," said Wong. "We saw a whole bunch of things! There was a variety of wildlife that roamed on the beautiful landscape in the area."
The Galapagos is known for its variety of animals and is also where Charles Darwin started to form his idea on evolution. However, when you go inland you find multiple markets and vast mountain ranges. Ecuador is definitely for people who enjoy nature and the outdoors. 
South Korea
A country with amazing food, cultures, and landscape. Freshman Brent Chung took a summer trip to South Korea and experienced it all. It is full of buzzing streets near the capital, Seoul, beaches, and villages down south. 
"I went to Seoul and Busan,"  said Chung. "The monorail in Busan was super fun and I loved the whole trip. The food there was super good-much better than English food."
Busan is the second largest city in Korea and is known for its beaches, mountains, and temples. Busan is a very historic place with temples dating back to 678 A.D. Seoul on the other hand is full of high-tech subways and amazing architecture. Not to mention, the pop culture and street markets have a huge influence in the capital itself.
Egypt
The first thoughts of Egypt is pyramids and desert. Which is true, but there is so much more.  While, The Great Pyramid of Khufu (the largest standing pyramid in the world) is in Cairo, Egypt which is also home to the Nile River. The Nile is famous river that has allowed crops to grow alongside of it for many years. It also the longest river in Afica and contests with the Amazon to be the longest in the world. Ali Gad traveled all the way to Northern Africa for his exciting trip this summer. 
"I stayed with family when I went to Egypt," said senior Ali Gad. "We went to Alexandria, Cairo, and Sharm El Sheik. I saw all of the tourist attractions and of course, went to the beach with my family. It was a lot of fun, but it is always nice to find some smaller attractions, like market shops and smaller restaurants."
Gad went to some of Egypt's most famous cities and thoroughly enjoyed it with his family. He experienced all sorts of different things in these cities. One thing is for sure, he definitely learned about Egypt's history.
There are a ton of remarkable places that you can visit in the world. Seven continents full of places to adventure and explore. As you try to think of places travel, keep in mind some of these places to spark interest or ideas so you can make the most of your vacation.