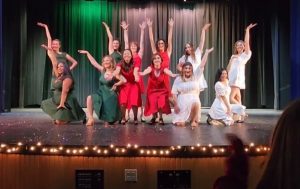 by Brianna Gracia
It's the holiday season at Coronado High School. Snow may not be falling here in the desert, but that doesn't stop the Theatre Department from bringing their own magical cheer to campus. Starting from the beginning of November, students from both tech and theatre have teamed up to put together their gift to Coronado – Winter Wonderland. 
The Winter Wonderland event, which took place Tuesday, November 29, started off with a festive carnival run by the Theatre Cabinet, and a walk-in "Santa's Workshop" where visitors could meet the jolly man in red himself. 
"We have the whole tech class involved," Ari de la Puente, 12, said. "The Tech I class made ornaments to hang from the ceiling. Upper techs worked on decorating the lobby."  
The workshop is a dazzling setup that starts from the outside. Trees are adorned with colored lights, welcoming guests as they enter. Coming inside, Santa's chair is surrounded by piles of presents. Dolls and toys sit nearby, ready to be shipped off for Christmas. Stockings are hung by the fireplace with care. Decorated trees line corners of the room, bringing even more festivity to the display. 
Meanwhile, theatre students worked together to organize stunning group numbers. Musical pieces such as "Jolly Holiday" (Mary Poppins), "Hygge" (Frozen), and "Turkey Lurkey" (Promises Promises) were performed with complete costumes and choreography. 
"This particular event is to raise money for our program," Addie Zolik, 12, said. "Our charity event is typically Broadway memories in the spring."
The Theatre Department strives to do a winter showcase every year, but this year was a little different from the last. The 2021 showcase was more of a vocal production, with various singing numbers. There were also a few scenes performed from iconic winter plays.  
"We decided to add a little more to it this year," Zoe McCracken, 12, said. "We added carnival games and the techs built Santa's Workshop. We wanted to bring more holiday spirit into the school from the theatre program." 
The Theatre Cabinet each set up their own special winter-themed carnival game for visitors to enjoy before the show began. Games included Pin the Heart on the Grinch, Snowball Bowling, Cookie Decorating, Guess how many Peppermints are in the Jar, and more. 
Winter Wonderland has come to a close, and the theatre department doesn't have any more plans for this semester. When one show closes, another opens. Currently, the cast of Mamma Mia is hard at work, and is eager to open their show. Showings start February 8th and close on the 12th. Students may purchase tickets on Showtix4U.com by searching for Coronado HS Theatre on the website.