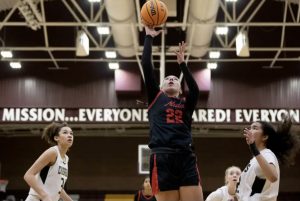 Women's Varsity Basketball
by Jordyn Tribus 
Playing on the Faith Lutheran court on January 17th, the Lady Cougars were able to emerge victorious. The crowd was roaring, the clock was ticking, and the tension was high on this Tuesday night. At the starting whistle, Coronado was mentally not in it. They were lagging behind the Crusaders in that their skills were not properly portrayed on the court. As a result, Coronado was down by the end of the first quarter.
"The game against Faith Lutheran was tough because we came out with no energy," said senior Ashtyn (AJ) Wick. "When we start we need to do so with a focused mentality so that we are prepared for what we have to accomplish."
Once the second quarter started, Coronado found their fire and slowly lessened the gap between the scores. They were blocking shots on defense and creating plays on offense to help them gain points. The team leaned on their connections on the floor which gave them the ability to stay disciplined in their skills. Fighting till the end, the Cougars were able to pull ahead with a 5-point lead, ending in a 62-57 win. 
"Our effort on defense translated over to offense," said junior Sunny Li. "We made our free throws when it counted and did what we needed to do from the beginning, win!"
Be sure to catch the next Coronado Women's Basketball game at home against Liberty High School @ 6 pm.  
Men's Varsity Basketball 
by Aubree Gearhart
On January 17th, the Coronado Cougars took on the Faith Lutheran Crusaders. The Cougars came out victorious. The final score of the game was 84-67. 
"The game against Faith went very well," said junior Blake Sullivan. "A real team effort with contributions all across the board from everyone. Freshman Myles Britt stepped up for us sinking a three-pointer and 5 free throws to help us put them away late in the game. All around good team performance, looking to use this momentum to crush liberty at home next week."
Freshman Myles Britt was moved up from Junior Varsity to Varsity for the game against Faith Lutheran. Britt was brought into the game at the beginning of the 4th quarter. The Cougars were up by 12 with 6 minutes left in the quarter, Britt was put into the game scoring free throws for his team. On the sidelines, his teammates and fans cheered him on as he lead the team to victory. 
Catch the Cougars back in action on January 19th as they take on the Liberty Patriots. The game will be at Coronado high school at 6:30 pm.