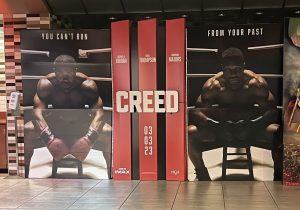 by Tainá Queiroz Fonseca
Michael B. Jordan's directorial debut was nothing short of extraordinary. The film is the latest spinoff of the Rocky franchise, and it is the ninth film in the overall boxing movies category. The performances from the actors showed emotional depth, and the new directing style brought in inspiration from Anime fighting scenes, creating a different viewpoint to the Creed movies. 
Not only did he direct Creed III, but Michael B. Jordan also starred in the film as Adonis, son of the champion fighter Apollo Creed. Starring as Adonis's opponent and childhood friend, Damian Anderson is Jonathan Majors.
The film starts off slow as audiences learn about the shared history between Adonis and Damian. Both boys were interested in boxing in their childhood and shared a tight bond. After a violent event in their childhood, Damian ends up going to prison for eighteen years while Adonis gets away. When the film flashes back to the modern day, where Adonis has the champion boxing career that Damian never had, Damian is left feeling regretful and jealous.
While parts of the explanation of the history between Adonis and Damian felt rushed, the overall flashback that aided in the explanation of the complex relationship between the main characters was beautifully executed. This gave audiences an opportunity to truly connect with the characters and their different struggles.
Another character we get to connect with is Bianca, Adonis's wife, as well as a successful singer-songwriter. Bianca is played by Tessa Thompson. Thompson and Jordan have spent years in their characters shoes, the actors have embodied their characters such that dialogue is not needed and their expressions alone can present intense and passionate characters.
Playing Adonis and Bianca's daughter is Mila Davis-Kent who is able to represent the deaf community through her role as Amara Creed. Jordan's storytelling skills are able to continue the deep love and connection between Adonis and Bianca through their efforts to raise a deaf daughter together. This loving and sensitive aspect helps to contrast the heavy violence and masculinity of the film. 
Overall, the film was fantastically crafted and audiences seem to agree. The movie received an 89% approval rating on rotten tomatoes and a 96% audience rating. Jonathan Majors and Michael B. Jordan successfully delivered nuanced performances and a twisting story of friendship and revenge that will leave an impact on fans.