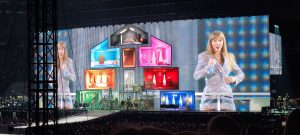 by Aubree Gearhart
On Friday, March 24th, iconic award-winning popstar Taylor Swift performed the 3rd and 4th nights of her sold-out tour known as The Eras Tour. Before this tour, Swift had not toured in five years, so this tour was massive for not only Swift and her fans but the music industry as well. The Eras Tour means a lot to both Taylor and her fans as this tour Taylor has songs from every album she has made on this setlist. 
Between songs, Taylor would talk to her fans about how much she appreciates them and even give hints as to what song she would play next in her staple dramatic and sassy way that she so effortlessly does. When giving one of her speeches Taylor mentioned "You're making me feel like I'm the first woman ever to headline Allegiant Stadium. Mark my words I will not be the last." After this short speech Swift then went on to preform her song "The Man". The Man is an anthem about feminism and how if women did the exact same thing a man did they would be seen differently simply because they are a woman. 
"I was signed up for all of the Ticketmaster presales for Taylor Swift; I tried to get tickets through the Capital One sale and General Public sale and was unable to get tickets all three times," senior Joey Mody said. " I wanted to go to the concert really bad and thought I was not going to be able to go. The day of the concert my dad called me and said he would buy me tickets if they got down to a reasonable price. Fortunately, prices dropped down, and I was able to get tickets at the very last minute. This concert was the most astonishing concert I have ever been to. Taylor most definitely knows how to put on a show and knows how to connect with her fans. Given the chance, I would go see Taylor again in a heartbeat." 
At the show, Taylor takes her fans through every "era" with not only her music but also stunning stage work, backup dancer, lighting, and costumes. Throughout the show, Taylor does several costume and set changes to match the vibe of each era. Something that Swift does an astonishing job at is making her shows feel very intimate, even in a stadium of 70,000 people Taylor is bound to make it feel that she is talking to you and making a connection with you. 
"I went both nights, and it was seriously the best weekend of my life," junior Sydney Morrison said. "Taylor sounded amazing and performed for three hours straight. It was so entertaining and such an amazing experience. I keep rewatching the videos I took because I miss it so much." 
Being the profound artist and performer that she is, Swift performed a three-hour-long setlist composed of 44 songs from each Era. However, each night of the tour towards the end of her extensive show, she plays surprise songs for each show. At Vegas night 1, her surprise songs were Our Song and Snow on the Beach feat. Lana Del Rey. Before performing "Snow on the Beach" Swift made it very clear that Lana would not be coming out to perform the song with her and that she was playing the song in order to help promote Lana's new album Did You Know that There Is A Tunnel Under Ocean Blvd. Swift's next stop on tour will be in Arlington, TX on March 31, April 1, and April 2nd.