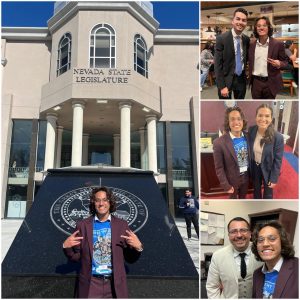 by Madeline Vernaci
Whether you know him as "Mr. Coronado" or through his participation in many other school activities, Taj Garza always advocates for things he believes are right. During the Mr. Coronado pageant, Taj was advocating for a cause close to his heart, so to him, it felt good that he won.
"It honestly felt amazing to win, and I felt so accomplished," senior Taj Garza said. "The reason I ran for Mr. Coronado was to raise money for a non-profit organization called Make the Road Nevada and spread their message, so that win assured me that I was able to spread that message to the school." 
Make the Road Nevada is a non-profit organization whose aim is to give working-class immigrant communities more power by empowering them to take action on issues that directly affect them and their families. This is just one of the many organizations that Taj supports and participates in, being dedicated to equity for everyone.
"I'm a part of lots of community and political organizations mostly dealing with equal opportunities for low-income students like myself," Garza said. "My mission is to use my privilege to help give those who are less fortunate than me a voice in how the community is built. I also like to focus on equal education opportunities, which means providing funding to low-income schools and removing the law that Nevada State of Higher Education (NSHE) has which essentially holds transcripts from students who owe fees to them."
Make the Road Nevada is one of the many organizations Taj supports, including the Latino Youth Leadership Alumni, which has members who attended the Latino Youth Leadership Conference during the summer of one of their high school years. The LYLA is an organization that strives to increase graduation rates and bring a sense of community to Latino youth within UNLV by organizing the yearly LYLC and hosting a series of other community service and social events.
"I am the Logistics Coordinator for the Latino Youth Leadership Alumni, which is a non-profit organization that hosts community and service events to bring Latino youth like myself together; however, everyone is welcome to join our events," Garza said. "My role is to schedule meetings with local politicians and influencers to get their support, and I also make sure we have the facilities to host community events, enough money, and the connections that we need to be successful."
While he has an important role within the LYLA, Taj's role in his community is greater than simply having a position in an organization or two. In addition to being a part of and supporting many organizations, he is constantly advocating for change. He has lobbied senators at the Nevada State Legislature in the capital, Carson City, with great success.
"Well currently I am backing a law that requires jobs to give workers working in extreme temperatures—105 and above—to give all their employees water breaks and shade whenever they need it," Garza said.
When lobbying senators for the bill protecting workers in extreme heat, Taj managed to convince two of them to vote yes. He has had hard-earned success as he advocates for change, and with his connections through the LYLA and his other work in the community, there is no doubt that he will continue to do so.
"Being in the LYLA has opened me up to so many connections, such as federal and local senators," Garza said. "I also became a lot more confident in my communication skills, and it taught me how to effectively communicate with government officials."
Taj's participation in the LYLC was what started him on this career path, and the organization enabled him to do so, after providing him with many connections. Connections alone could not provide him the resources needed to achieve all the things that he has; Taj has a way with words and a magnetic personality that can bring a smile to anyone's face.
"I love talking to people and networking," Garza said. "I also love having a say in how we build the future of the community, and to have a say in how it is built gives me a sense of pride knowing that I left my mark in Nevada."
The communication and networking skills that Taj excels in will only continue to serve him well as he heads to college to pursue his aspirations. 
"I used to want to major in computer science, but now I am looking into law and political science," Garza said. "I plan on going to UNLV for my undergrad and hopefully George Washington in DC for my graduate."
There is no doubt that Taj will continue to leave his mark wherever his journey takes him—whether it's to UNLV, GWU, or even a position in government later on—he'll be sure to make a difference.