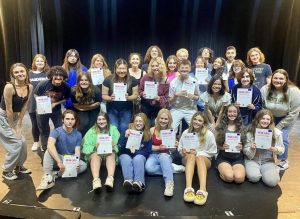 by Brianna Gracia
Coronado's Theatre Department never fails to dazzle and impress. Not only did their 2022 spring production of Mamma Mia win best mainstage production at the Nevada State Conference, but they also were nominated for several accolades at the Nevada High School Theatre Awards, hosted at the Smith Center. This summer, they will be bringing a new story to the stage: Mean Girls. 
With the success of Mamma Mia, all eyes and expectations are on this show. The rights to perform the show were recently released earlier this year, and Mr. Torres, the director of the production, was quick to grab them. Later this year, the show's rights were closed, meaning until further notice, no other schools may perform the musical. The only other school in the state to perform this musical is Rancho High School, and Coronado will soon be standing beside them. 
The theatre department is pulling all of the stops for this production. Tap specialist Gianni Matteo has been invited to not only teach a tap workshop to the cast, but to also choreograph the tap number Stop. On top of that, the special effects/tech work is not going to be overlooked by any means. Coronado's Theatre Tech Department works avidly as they prepare the very same projections used in the Broadway production for the Coronado stage.
"We want to remain true to the original production," said Mr. Torres. "Heavy inspiration is being taken from the original show, as we want to stay true to the message." 
The message of Mean Girls is one any high schooler can hold close to their heart. In a world where we are constantly comparing ourselves to each other and striving for perfection at such a young age, it can be easy to get caught up in self-image, and these feelings can generate jealousy and animosity. But in a school full of stars, the Coronado way is to always be kind and loving. Coronado's cast of Mean Girls is ready to take this message to the spotlight. 
Catch both casts of Mean Girls from June 13th -16th. Tickets can be found at showtix4u.com or find the link under the Coronado Theatre Instagram.