By Izzy Schmidt and Marcus Hunt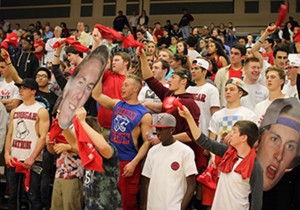 Although the women's varsity basketball team suffered a disappointing 57-47 loss at home last night against Foothill High School, they never gave up. Taylor Tyrell, 11, led the team with 30 points, along with 18 points from Grace Green, 12, and 12 from co-captain, Skylar Feldman, 12.
The beginning of the game was hopeful, and they were four points off the pace of Foothill at halftime. Coronado picked up the speed and led 38-37 by the end of the third quarter, but consistent team fouls and off target shots caught up with the Cougars in the end.
Co-captain Dajah Washington, 11, added nine points and Karlie Thorn, 11, also contributed eight points in the competition.
Despite the heart-breaking losses, the women's team honored and showed off their seven senior players at the senior night celebration.
The Cougars will face the Pioneers at Canyon Springs High School on Tuesday, Feb 18 for the first round of the playoffs at 5:00pm.
The men also lost in their efforts against the Falcons. Eddie Austin, 12, led the team with 15 points along with six points and 17 rebounds from Travis Bowman, 10,  in the devastating 81-45 men's varsity basketball home loss Wednesday night.
Coronado started slow, but physical, racking up almost as many fouls as points by the end of the first quarter with Foothill leading 12-5. Coronado trailed 36-20 at the half, 59-32 at the end of the third quarter and a final score of 81-45.
The Cougars struggled throughout the entire game against the No. 2 Southern Nevada Coaches Poll ranked Foothill Falcons.
Austin Morgan, 12, and Matt Johnson,11, also both contributed seven points each in the losing effort.
Despite Thursday night's loss, Coronado still sits second in the southeast league and has made the playoffs. For the first round of the playoffs, the Cougars will host Valley High School on Wednesday, Feb. 19 at 6:30 p.m.