By Meagan Young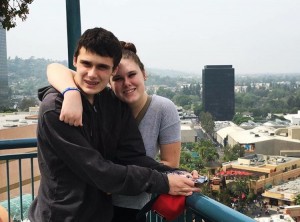 Students have seen her on Channel 6 News, at Dance Zone, in Cougar's United, and SAVE club; she is a friend, a senior, a helping hand, and an inspiration to all. She is senior Lauren Abercrombie.
"Lauren and I used to go to dance together. She would always talk about how she wanted to open up a dance studio for special needs children. Her motivation has gotten her so far and I know that she is going to do even more amazing things in life," Saveria Farino, sophomore, said.
As involved as Abercrombie is, she still makes time for her personal project. Promapalooza is a prom for special needs teens and young adults.  Abercrombie was the one to make Promapalooza possible, along with her mother, Lisa.  Abercrombie gets her inspiration from her brother Mason Abercrombie, who was diagnosed with autism at two years old.
"Since my brother was diagnosed with autism, he has accomplished so many things. He is by far the smartest person I have ever met," Abercrombie said. "Mason is the reason why I love doing what I do. Without him I never would have been able to find my passion, working with individuals with special needs. I aspire to be as kind, intelligent, and optimistic as he is. Mason is constantly changing my life for the better. He is my best friend and my inspiration."
Promapalooza became a reality in August of 2014 prompted by a spontaneous conversation with her mother. Lauren and her mom dreamed of creating a prom for special needs teens and young adults, and that is exactly what they did. The process of starting Promapalooza was not easy, but with the help of local organizations and sponsors, the prom went from dream to reality. Operation Promapalooza was well on it's way.  The first mission was to find a venue to host the prom and narrow down the food and fundraising options.
"Unfortunately, in late March 2015, my mom passed away. After her passing, I wanted to continue to pursue making our once small dream into a reality. The community worked together to help create Promapalooza. The prom lives in the honor of my mother, Lisa," Abercrombie said. "This year's prom will be on June 4 at Zappos from 6-9 p.m. We will be having a few more fundraisers in May."
In the fall, Abercrombie will attend UNLV college of education and major in special education. The senior sees herself opening a business focused on adult home education, the arts, and social skills for children, teenagers, and adults on the autism spectrum.