By Lexi Lane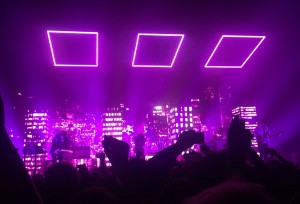 Everyone tried inching closer and closer to get a better view from the floor. The lights dimmed, signaling the show was about to start. The crowd was full of energy before the show even began.
UK indie rock band, The 1975 performed at The Chelsea at the Cosmopolitan on April 23. This was the band's second visit to Las Vegas on tour, the first being in 2013 at the Hard Rock, and this time to a much larger audience, due to their increased popularity and airplay on recent mainstream radio stations.
The show started with "Love Me," fans went wild, screaming along and jumping with enthusiasm. However, the floor of the Chelsea wasn't your typical, boring floor – it was a trampoline – a dancefloor that would bounce higher and higher the more that people jumped on it. The 1975 had a brilliant stage setup – with aesthetically, colorful, neon lights to illuminate their logo above the stage that was timed perfectly to the music.
Singing and dancing to the songs from their latest album, as well as their 2013 debut, lead singer Matty Healy put on a great show over the two hour set span. The show was filled with both new and familiar tunes.
Halfway through the gig, Healy requested the audience to take a phone break to capture the musical and emotional depth of a slower song off the setlist "Me." It was a unique request to hear at a concert, due to the constant use of phones to film/take pictures. The audience connected with one another as well as the band, and used the song as five minutes of silence.
The band had an enthusiastic and fun attitude to match their poppier sound persona during the show. Healy, known for drinking and smoking during live performances, lived up to the hype and did the same for The Chelsea show.
After returning for an encore, The 1975 closed the show with "If I Believe You," "The Sound," and "Sex." As the crowd jumped and skyrocketed around on the floor, the people cheered and chanted to close the show.
It was a concert to remember.
Click here to see The Roar's review of The 1975 album