By Robert Ayala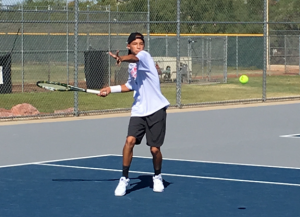 Varsity men's and women's tennis team beat Silverado in an impressive 16-2 victory continuing their undefeated reign.
The tennis teams worked hard over the summer to improve their techniques allowing the high school to go on a good streak starting off the year. Silverado's team wasn't able to match up against the Cougar players.
"Silverado isn't really a high school that we have to worry about. It's more Liberty and Bishop that's the problem," Coach Bohanan said.
One of the only players on the Silverado varsity tennis team that was able to score on the Cougars was Seth Forstner, sophomore.
Forstner played Martin Phillip, senior, and went to a tiebreaker after a 6-6 match. In the tiebreak Martin beat Forstner 7-4. Most of the Silverado players, however, went 0-6 against their opponents.
"Forstner was a really good player and the match was definitely tough," Martin said.
Both Coach Bohanan and Assistant Coach King said that Martin was a one of the better players and that Forstner was a good matchup for him.
"So far this year has been awesome for us, and I think that we have the best team somebody could ask for. Even the boy's team has some really great players like Martin Phillips, I believe that a handful of these kids on the team will go on to the USTA," King said.
The Cougars had a resounding 16-2 victory, continuing the Cougars winning streak.