By Joshua Christensen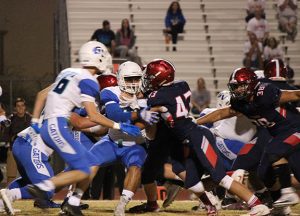 Storming through the gates for their senior night at home, varsity football (2-6, 0-4) fell to the Green Valley Gators (4-4, 1-3), 35-17 on Friday, Oct. 21.
Landen Rowland, senior, was the first on the scoreboard with a five-yard quarterback keeper. Green Valley's CJ Araujo, senior, answered with a one-yard touchdown run. The Cougar's L. Richard, senior, got in on a one-yard push to set Coronado at 14 to 7. Gavin Wale, sophomore, kicked a 42-yard field goal to put the Cougars ahead at 17-7. Christian Mayberry, junior, and Julian Hulse, sophomore, led a comeback after the half with two passing and two rushing touchdowns.
"Staying positive when play don't go our way and being mentally tough throughout the game [is the biggest thing our team needs to work on]," Ishmael Jones, junior, said.
Cougars became disheartened after Coach Froman was ejected during the third quarter because of unsportsmanlike conduct. Things didn't get easier for the Cougars after that with the Gators gaining a 20-yard touchdown and making a key interception, which resulted in a 33-yard touchdown run. The Cougars reacted by doubling down and committing to work even harder
"I just plan to [improve after tonight's game by] working harder and harder each day," Matthew Tokos, junior, said.
With this win, Green Valley moved their record to 4-4 before heading to their game against Foothill, keeping their post-season hopes alive. Coronado will play at Silverado next as their last game of the regular season on Thursday, Oct. 27.
"Well we just gotta work harder and improve on offense side of the ball and defense side of the ball and play our heart out on Thursday and see what happens. We got nothing to lose; our backs are against the wall, so we gotta fight!" Ian McCullough, Blue-Grey All-American, senior, said.