By Sage Tippie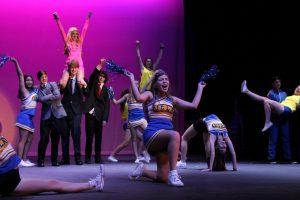 Heading into their sixth game of the 2-3 season, the varsity flag football team capitalized on their hard work since their last game with a 27-0 shut out over Sunrise Mountain.
"After all the work we've put in throughout the season so far, it felt really rewarding to get a shut out today on the field. This just shows that hard work really does pay off, and I know we can only go up from here," Alexis Washington, sophomore, said.
Throughout the first half, the Cougars kept the ball on their side with interceptions from sophomores Lexi Potts and Reagan Raimer. Merhan "M" Noureldin, senior, scored a touchdown after a pass from quarterback Caitlin Shannon, sophomore. The game was slowed down with three timeouts for the Pioneers and a penalty caused by junior Shawna Slater's earrings, which she immediately removed.  
"Our win against Sunrise Mountain was a surprisingly intense game. Our coach often tells us that we are our own greatest enemy, making the simplest plays difficult and the difficult plays work, and that definitely was true today," Raimer said.
The game continued with strong defense by Slater and junior Bianca Barin. The Cougars gained more ground with a five-yard penalty for the Pioneers caused by a false start. Shannon ran in for another touchdown followed by a two-point conversion between Shannon and Jensen Boman, junior. The Cougars ended the first half with a score of 14-0.
The second half was smooth sailing for the Cougars. Slater scored a touchdown early in the second portion of the game. The Cougars lost ground after an illegal forward pass resulting in a five-yard penalty. Raimer and Slater regained ground with interceptions along with defensive plays by Bryn Steiber, junior, and Boman. Noureldin made the last touchdown of the game followed by a one-point conversion, leaving the Cougars with a final score of 27-0 against Sunrise Mountain.
"I think this shut out will be really good for our team. It's something to look back at for our team to show how far we've come and how far we can go. It will definitely serve as inspiration in our future games because we know how well we can do," Brittany Whitt, senior, said.