By McKenna Cooley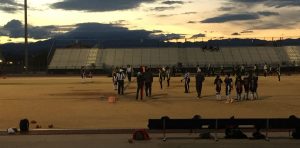 The Cougars started off slow with an incomplete pass on the first down, but came back strong when Trinity Rhoades, senior, ran the ball down to the 20-yard line putting the Cougs in position to score their first touchdown and one-point conversion.
The Rattlesnakes only had the ball for a first down before Rhoades intercepted the ball and ran 20-yards to score another touchdown for the Cougars. They did not complete the one-point conversion. Once again, the Rattlesnakes took control of the ball then lost it to the Cougs by interception leading to another touchdown, but no one-point conversion
"They had a great game full of interceptions. It was a really great blowout for them," Navid Fanan, freshman, said.
Mojave had the ball for four full downs but couldn't get past the 20-yard line due to the Cougars strong defense. The ball was passed back and forth with no game changing plays by either team. Coronado led 19-0 at the end of the first half.
"It was an awesome game. I like being their manager. It's always fun to support them," freshman Justin Stoeckinger, team manager, said.
Mojave had three downs before they could run to the 20-yard line but weren't able to score. After getting the ball back, Rhoades struck again with a touchdown from the 20-yard line. Coronado got the one-point conversion.
After an interception by the Cougars, Rhoades scored another touchdown but didn't get the one-point conversion because a Coronado player received a yellow flag for not having her flags on. Caitlyn Shannon, sophomore, scored the last touchdown of the game and the one- point conversion leading the Cougars to a win 33-0.
"It was a good win, but we still have a lot of work (practice) to do to get better," Shannon said.