By Lexi Lane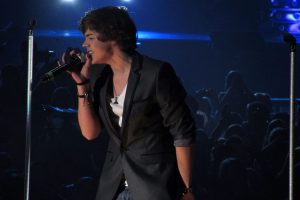 Straying away from his poppy-boy band image that was once prevalent in One Direction, now solo member Harry Styles released his debut self-titled album on Friday, May 12.
He is not the first member of One Direction to release solo material, but this one is by far the best and places Styles at the forefront of music and further establishes him as an icon.
The eclectic album as a whole cements Styles as a new key figure in modern day rock-n-roll, pop, and top 40 radio, drawing comparisons to him being a mix between Mick Jagger and Justin Timberlake.
The album starts ("Meet Me in the Hallway") and ends ("From the Dining Table") both on a somber note, with these two slow songs leaving the listener feeling Styles's reflective and passive side.
This follows up with "Sign of the Times," the first single off of the album that is a brilliant ballad in itself, as well as a good testament to his vocals.
The pace quickens with the upbeat, more guitar-filled songs on the album "Kiwi," "Only Angel," and "Woman." These songs stand out, and are the songs on the album most reminiscent of One Direction's sound. The album's influences range from folk and rock, and show off Styles drawing clearly from personal experiences and versatility as an individual musician.
Styles plans to tour the U.S in the fall, visiting large cities including Los Angeles, Chicago, and New York City. However, for those local fans who want to see him in "Harry Styles Live on Tour," a plane ticket or car is required as he is not coming to Las Vegas.