By McKenna Cooley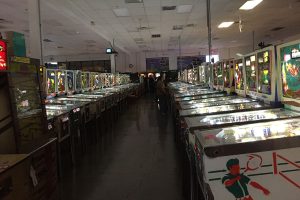 The Pinball Hall of Fame is a lively hall displaying the world's largest pinball collection. The warehouse, full of antique machines ranging from 1950s until the 1990s as well as other arcade games, makes an exciting and entertaining activity for everyone.
It takes less than an hour from Coronado to reach the Pinball Hall of Fame on East Tropicana Drive, just past the airport. The hall is open from 11 a.m. to 11 p.m. Monday through Thursday and until midnight Friday and Saturday. The friendly owner and employees are available throughout the day to help should guests have questions.
There are plenty of machines based on history's pop culture with T.V. shows and movies like "Family Guy" and "Spiderman." Pinball isn't the only game they provide; there is an entire wall dedicated to other classic arcade games such as Ms. Pac Man or Super Mario Bros.
There is no entrance fee, and every machine takes quarters. Dig in the junk drawer and find some spare change to play for a cheap summer activity. There are also change machines at the front near the entrance if needed. Going in with $20 in quarters can last at least 12 games, giving players hours of affordable fun.
The Pinball Hall of Fame is the perfect place for a cute date or a group hangout with friends if laying out in the blistering sun gets old. It's air-conditioned, entertaining, and a simple old-school way of having a good time. It was a wonderful five out of five experience.