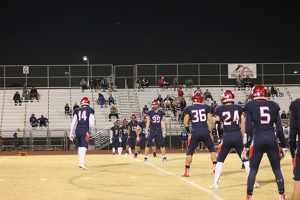 By Ryan Kelleher
Men's varsity football pulled out a close win over the Silverado Skyhawks, 24-22 on Thursday, Oct. 26 for the homecoming game.
In the first half, Coronado struggled to make any passes and were down, 3-16. The Cougs were able to prevent Silverado from scoring in the third quarter but still trailed behind the Skyhawks, 10-16.
"The kids are used to being down, so we aren't afraid to be in that position. The team stayed together and never gave up," Coach Froman said.
Early into the fourth quarter, Semaj Bolin, junior, scored a touchdown tying the game at 16-16. With a completed kick from junior Gavin Wale, the Cougs were up for the first time in the game, 17-16.  
"It was halftime, and we were thinking that there were two quarters left in our season. We needed to go for it. I told my team that I was going to go out and help get a 'W' for them," Bolin said.
Later in the fourth quarter, Bolin intercepted a Skyhawk ball and returned it 24 yards for another touchdown, extending Coronado's lead to 24-16. Silverado scored another touchdown but was unable to complete the two-point conversion, giving Coronado the 24-22 win.
"It was definitely our best performance of the season. We tried to improve every week, so by the final game we can be as close to perfect as possible," Ayzayah Hartfield, sophomore, said.
Despite winning their final game, the Cougar's 3-6 record was not enough to qualify them for playoffs.