By Ainsley Davis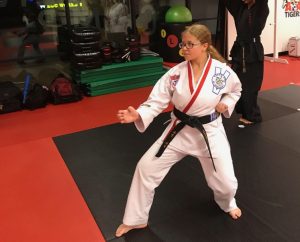 Even with all the activities offered in school- from flag football to swim and dive to badminton- it's impossible to satisfy everyone's unique interests. Exercise has dozens of benefits beyond staying in shape; it can help kids make new friends, reduce stress, and even stimulate the brain to create a burst of energy for exhausted students, according to a study by the University of Rochester. When students use up all their energy through a sport, focusing in class becomes easier. With limited resources, time, and coaches, schools can't always offer something to everyone. Because of this, some teenagers look to studios, dojos, and sports organizations to engage in the activities they enjoy.
"My mom actually found my Taekwondo studio when I was four years old," Camille Sweeney-Carter, freshman, said. "I guess she wanted me to learn how to defend myself and give me something to do after school. My dad did martial arts before, so I got to follow in his footsteps. My studio is like my home away from home and has really helped me gain confidence."
Along with physical fitness and strength, activities like martial arts can give teens a confidence boost. They give students goals to strive for and rewards- a new level or belt- when they reach them. Receiving constructive feedback from an instructor teaches kids how to access their Martial arts studios offer Karate, Kung Fu, Jujitsu, and Tai Chi in addition to Taekwondo, which all teach self defense, promote self-discipline, and can help kids with ADHD manage their symptoms, according to the Wisconsin Medical Society.
Besides martial arts, hikers and bikers can meet new friends to share their interest with on meetup.com, a website that allows people to meet up and create groups based on sports or other topics. Groups like VegasHikers or Las Vegas Valley Bicycle Club can help kids find others who share their interests. Gymnastics, another sport that isn't offered in school, helps kids develop balance and coordination.
"I started doing gymnastics because I was always upside down in my parents' closet or running around as a kid. They signed me up at a gym, and I never left," Dana Oshiro, sophomore, said. "I would definitely recommend a sport outside of school because it's a great way to stay in shape, and you learn skills and lessons that are valuable outside the sport."
With a wider range of sports available outside school, it can be easier find the right activities for different personalities. Some people don't enjoy team sports, and would rather compete in a sport like gymnastics, where they can compete individually and focus on their own skills. Gymcats offers dance and cheer along with gymnastics, and Vegas Valley Gymnastics Center has open gym on Fridays and Saturdays. But sometimes it's not the appeal of a unique sport that entices kids to look for options outside school. Even if a sport is available in school, some kids decide to play with club leagues or other organizations to practice for in-school sports or because they prefer the atmosphere and the people they play with.  
"I used to play for the school team, but now that I bowl outside school, I can focus on my own skills more, and I'm not limited to only three lanes. It's allowed me to travel across the country, make friends with a wider range of people and made me eligible for scholarships," Alayna Purdy, junior said.