By Saveria Farino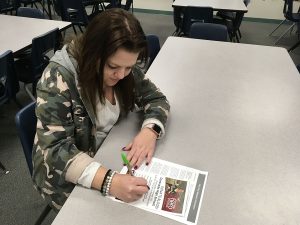 The Future Medical Professionals club is hosting their first blood drive of 2018 on Wednesday, Feb. 7 from 8:00 a.m. to 12:20 p.m. in the auxiliary gym.
"Four blood drives are held at school each year so that students and teachers have multiple opportunities to easily donate," Treasurer Zahra Zebari, junior, said. "Participating in the drives helps keep United Blood Services prepared, and it is a great way to give back."
Students who wish to participate must be at least 17 years old and weigh a minimum of 110 pounds. Tattoos must be at least one year old or donor will be ineligible to donate.
"When I first donated blood, it was before the Las Vegas massacre," Ava Trompter, senior, said.  "Often times you don't think about how your actions make an impact until something tragic happens; it was nice to know I did something."
Not only will students be excused from class, but they can also earn FMP club hours. All donors can receive two community service hours for their donations. All paperwork required for donors is available in Mrs. Jackson's room, 901, or check out FMP's website.
"Donating blood is saving a life," Mrs. Jackson, FMP adviser, said. "With all that's happened in Las Vegas, we have been more prepared because of high school blood drives. We are such a transient city with so many people all over the world coming here to vacation. Without high school blood drives, they would never have enough blood."