By Emerald Green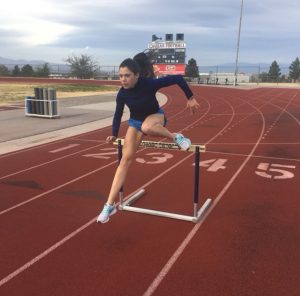 She speedwalks everywhere, reads and comprehends 1,000 pages in one night, and writes an average of five pages front and back, hand-written. Besides math, Shay Mentley, junior, is a girl that does everything fast. Once she realized that running belonged on that list freshman year, she joined track and field and connected with her need for speed.
"I hated running for a majority of my life," Mentley said. "I was wearing triple 0 pants and XS shirts because I had absolutely no muscle mass and did not understand that thin did not equal healthy. Running is my life, honestly. It's what I love to do. It's the only thing that makes me feel invincible."
On the field, she specializes in the 100-meter hurdles, 300-meter hurdles, and high jump, but last season, she experienced what she describes as one of the worst moments of her life. It was an injury that she feared would cost her the season, and it did.
"I was disappointed for her because she trained so hard to get where she was," Coach Linehan, former athletic trainer for the MLB and NHL, said.
During the first practice of the 2017 season, she was doing drills on hurdles that were much taller than she was used to when she caught the hurdle and fell with it between her legs, twisted her ankle, and smacked the bone directly on the track's asphalt. The accident stretched ligaments in her ankle and throughout her leg; her ankle bone was severely bruised. She sported a boot for two weeks, but she did not fully heal until after twelve. She appreciated the little movements that everyday life required much more than she had before.
"I cried for three days and had a melt-down because I couldn't sit criss-cross," Mentley said.
The track star couldn't run for two and a half weeks nor perform at her full potential for the rest of the season. Instead, she focused on the high jump and the 300-meter because of intense pain from the quick pace and pressure on her toes in the 100-meter.
"When real athletes fall down; they get back up," Linehan said. "Shay did that. A lot of sports injuries are unavoidable. Shay learned from her experience."
This year, Mentley was prepared to make up for lost time. She reached a personal record of 4'10 in the high jump. She trains six to seven days every week from one to three hours each day.
"Shay has gone from quiet observer to vocal leader," Linehan said. "She learns the fundamentals for each of her events, practices to perfect them, and then has the ability to teach others. That is a level of maturity we like to see in all of the students. Shay has a real good shot at breaking the school record in the high jump before she graduates."
Along with track and field, Mentley also juggles three AP classes and a job at Trader Joe's that she takes much pride in. She admits that it takes a lot of planning ahead of time, but that it's okay because it fits her "Type A personality." When she wakes up, her day is already planned out on her phone with a set of reminders and alarms; anything else is scribbled on her left hand.
"She is responsible, playful with an exceptional emotional maturity," Ms. Rush, history teacher, said.
The athletic, academic superstar is part of a strong-willed family that she lovingly refers to as "very Jewish."
"My parents are the most supportive and over enthusiastic people I've ever met," Mentley said. "My dad and granddad used to run cross country and track in high school. My dad even ran hurdles and high jump, but I didn't know that until he told me halfway through my first season."
Mentley feels running has brought her new confidence and some of her closest friends. As for her social life, Mentley goes out maybe once a weekend but mainly uses that free time to relax, work, cry, and spend time with family. She doesn't plan on slowing down anytime soon.
"Setbacks are part of the game and they are part of life," Linehan said. "First, you heal and rehabilitate to get back to square one. Then, you just have to put in the work like you did before, and everything will be alright."