By Joshua Christensen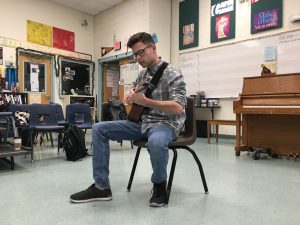 Interact club is hosting a talent show in the theater on Thursday, March 22 from 6:00 to 8:00 p.m. to raise money for the Heifer Foundation, which works to end world hunger.
"We're so excited to be contributing to the Heifer Foundation," Matea Zelch, sophomore, said. "They do excellent work with disadvantaged people in helping increase their quality of life. To be a part of that in this way is an exciting opportunity."
Interact club plans to donate a minimum of $500-600 to Heifer and anticipates that at least 100 students will attend. Acts will be from 18 talented members of the student body. Performers were selected after auditioning in front of members of Interact club.
"We have an amazing line of such wonderful and talented performers who will make you laugh, cry and make your jaws drop," Tiffany Ignacio, senior, said. "We hope to see everyone there supporting."
Tickets are $5 in advance and can be purchased in the courtyard during both lunches. Tickets will be $7 at the door, and concessions will be available for purchase as well.