By Alli Gray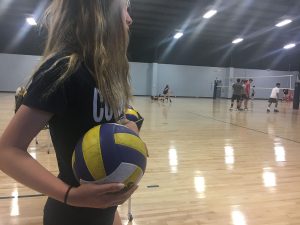 Being an athlete takes a lot: time management, rough training, and performing under pressure, all are huge factors in playing sports. For some athletes, having a tradition before every game can be helpful throughout their performance. Superstitions are basic rituals that give players a feeling of certainty before or during a game. Whether it's wearing "special" socks or a dirty jersey, superstitions have been around since the early 1920' s and continue to impact players all over the world.   
"During high school season, before a home volleyball game I always have to tap the water fountain button as fast as I can right before our warm-up," Phoebe Mauriello-Crozer, sophomore, said.
Michael Jordan is one of the best and most known basketball players in the NBA, but he insisted on wearing two pairs of shorts every game to help him throughout his game. Playing sports is almost always measured by how physical the athlete is, but most people never realize how difficult the mental aspect can be. Sports superstitions do not ensure superior performances or take away the rough ones, but they can be a solace to the player. They can provide a comfortable and familiar feeling to athletes who need a burst in confidence, assurance or courage.
"When it comes to sports superstitions, if it makes the players feel good doing things a certain way, go for it," Coach Matt Johnson said. "I had my own superstition back when I coached in Hawaii. I would always get a cinnamon pretzel and a pepsi before the game and eat it in the highest seat in the arena."
Superstitions can also become a team bonding experience. Sharing a technique with teammates bonds a team together and simply gives them a laugh before a nerve-racking game. Even though the superstition may be silly, if the outcome is positive, it can become a tradition. "If you believe it, the mind can achieve it," Ronnie Lott said, and some sports teams have unique customs that work in order to achieve their individual goals.
"As a swimmer, we believe if we dye our hair with our team colors before a meet, we will come out successful," Legend Jankowski, freshman, said. "It motivates me and my team into doing our best."
Ironically superstitions reassure athletes in a game where most plays are out of their control. From chewing gum before a game to knocking on wood athletes have superstitions that they believe benefit their performance.
"During an away game, when my team would cross a train track, we would always find a screw on the bus, touch it and lift our feet up,"  Madison Karcich, senior, said. "I've done it since I was a freshman, and I liked passing on the tradition. I felt liked it really helped the team."