Karen Pegueros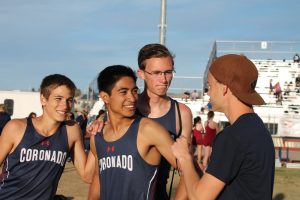 From musical prodigy to track star, senior Pierce-Jordan Paragas, or PJ as his friends call him, succeeds in all he does. Paragas is a friendly face, known for his constant kindness and joy. He hopes he's made his parents proud and himself happy living by a French saying, "petit a petit l'oiseau fait son nid," little by little, the bird makes its nest.  
"PJ has shown me what hard work and dedication truly looks like," younger sister Kayla Paragas, sophomore, said. "He's also shown me how to always look at the best parts of life and to keep that positive mindset throughout everything and to also never stop trying even when you think you can't do it anymore. Honestly he has inspired me in every way possible because if there's anyone more ambitious and kind hearted, I'd like to meet that person."
A member of the varsity cross country team since freshman year, cross country has played a major role in his high school career, establishing most of his life-long friendships.
"Every cross country season has been my favorite part of high school because of the new friends that I've met there," Paragas said." We all push each other to break personal records, regardless of how we may have competed. The amount of sportsmanship is amazing."
He has also participated in track and field since freshman year. This year however, he decided to try field events and fell in love. Paragas wanted to spice things up his senior year and thanks his coaches. "They definitely made it enjoyable."
The young musician is involved in the Maestoso Club at school, chamber and philharmonic orchestra, the Nevada All State Orchestra, the Nevada Honor Orchestra, symphony orchestra, and had several solos and ensembles playing the cello throughout high school.
Paragas enjoyed playing at St. Rose Hospital for Maestoso Club because of the joy that listening to music brought to the patients. "Many of the patients would come to the lobby to hear us play, and it felt really good to offer them the different pieces that I enjoyed playing with the ensemble," he said.
On top of his excellent academic performance, including a total of eight AP classes, Paragas is also an active member in his church community. He has been a church altar server-lead since second grade, where he helps priests during mass and kids with their community activities.
The scholar won't be flying too far from the nest though as he plans on studying business administration at Northern Arizona University in the honors college. He will be enrolling in AFROTC (Air Force Reserve Officer Training Corps) classes and hopes to become a financial management officer in the Air Force.
"PJ, you've been with me every step of the way, and I'm so excited to see what a great man you'll become," best friend Ethan Paczkowski, senior, said. "You're going to do profound things, both learning at NAU and serving our country in the Air Force after, and I couldn't think of a better person to represent our country. From a brother to a brother, thank you: thank you for being the most humble, kind, hilarious, fun, and honorable friend I have. You are a thoroughly good man."